President sues 2 scholars for alleging her doctorate degree is fake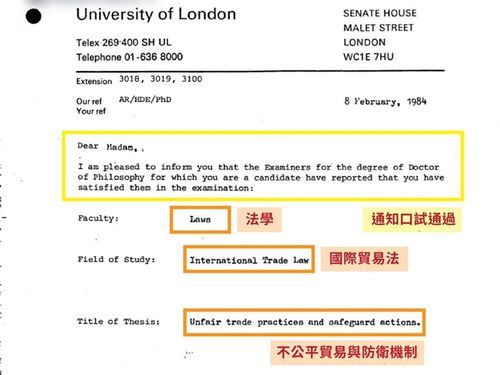 Taipei, Sept. 4 (CNA) President Tsai Ing-wen (蔡英文) has filed a lawsuit against two academics who called into question the authenticity of her PhD certificate, the Presidential Office said Wednesday.
Tsai's attorneys have brought legal action against Ho De-fen (賀德芬), professor emeritus at National Taiwan University's department of law, and Hwan C. Lin (林環牆), associate professor at the University of North Carolina, to uphold the president's reputation and credibility, the office said.
The lawsuit was filed by attorneys Lien Yuan-lung (連元龍) and Chang Jen-chi (張人志) after Ho alleged at a news conference Aug. 29 that Tsai's PhD certificate from the London School of Economics and Political Science (LSE) was fake, the Presidential Office said.
In Ho's allegations, she cited an investigative report by Lin on the authenticity of the certificate.
The Presidential Office said the allegations were false and an attempt to damage Tsai's reputation and credibility.
In filing the lawsuit, Tsai's attorneys also presented Tsai's doctoral dissertation and certificate for verification, according to the Presidential Office
LSE has provided records that show the names of Tsai's advisors while she was writing her dissertation, which was titled "Unfair trade practices and safeguard actions," the Presidential Office said.
The school also made available an official notice that was issued in February 1984, indicating that Tsai had passed her thesis defense, and it provided a photocopy of her doctorate certificate that was issued in March 1984, the office said.
The photocopy of Tsai's doctorate certificate from LSE is identical to the one that was provided to National Chengchi University (NCCU) in 1984 when she was applying for a teaching job there and the copy in the Ministry of Education's database, the Presidential Office said.
As the president of Taiwan, Tsai has to uphold her credibility and reputation, which is why she decided to take legal action against the two individuals who made the false accusations against her, the Presidential Office said.