KMT's Han Kuo-yu assembles 100-member policy advisory group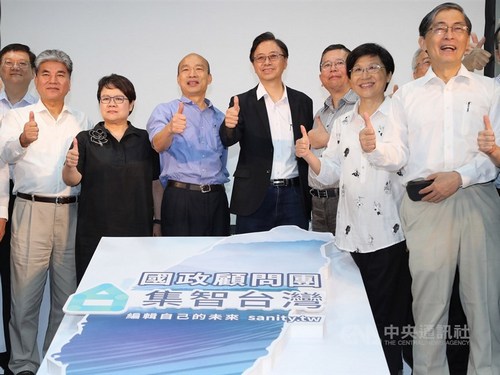 Taipei, Aug. 18 (CNA) Han Kuo-yu (韓國瑜), the opposition Kuomintang's (KMT) presidential candidate, on Saturday named 100 people selected for his national policy advisory team, most of whom are former KMT government officials.
At a news conference, Han said he has picked another 100 academics and experts to serve on his advisory team but cannot yet release their names.
The advisory group will be led by former Premier Chang San-cheng (張善政), while former Vice Premier Duh Tyzz-jiun (杜紫軍), former Interior Minister Lee Hung-yuan (李鴻源) and former Minister without Portfolio Tsai Yu-ling (蔡玉玲) will serve as deputy conveners, Han said.
The national policy advisory team will be divided into 20 groups, with former Mainland Affairs Council (MAC) Deputy Minister Chao Chien-ming (趙建民) heading the cross-Taiwan Strait affairs division, former Senior Advisor of National Security to the U.S. Mike Tien (田在勱) leading the national defense division, and Ho Szu-yin (何思因), former deputy secretary-general of the National Security Council (NSC), leading the foreign affairs segment, Han said.
Also in the cross-strait division will be former MAC Deputy Minister Chao Chien-min (趙建民), former NSC head Su Chi (蘇起), former Straits Exchange Foundation Vice Chairman Maa Shaw-chang (馬紹章) and Chang Wu-ueh (張五岳), director of Tamkang University's Center for Cross-Strait Relations.
The national defense segment, meanwhile, will also include former MAC Deputy Minister Alexander Huang (黃介正) and Richard Chen (陳永康), former deputy minister of defense who had previously served as head of Taiwan's military delegation to the U.S., according to the list.
Others joining the foreign affairs division will be Deputy Foreign Minister Paul Chang (章文樑), Taiwan's former representative to New Zealand Jieh Wen-chieh (介文汲), and Taiwan's former representative to the United Kingdom Liu Chih-kung (劉志攻), according to the list.
Also on the foreign affairs list are Chiu Kun-shuan (邱坤玄), emeritus professor of National Chengchi University's Graduate Institute of East Asian Studies, Edward Chen (陳一新), chair professor at Chinese Culture University's Department of Political Science, and Ho Szu-shen (何思慎), a professor at Fu Jen Catholic University's Department of Japanese Language and Culture.
Others on the national policy advisory team are former KMT Legislator Kao Su-po (高思博), and former Taiwan Solidarity Union (TSU) Chairman Su Chin-chiang (蘇進強), who was stripped of his TSU party membership in 2014 over a visit to China with KMT Honorary Chairman Lien Chan (連戰).
The other divisions are constitutional and judiciary affairs, clean government, policing and social order, national land planning, construction and disaster prevention, labor policy, economic and business affairs, financial and banking, technology and digitalization, youth and innovative startup policy, transportation and tourism, healthcare and long-term care, and social welfare.
Also speaking at the press conference, Chang said an energy policy that favors holding a pro-nuclear referendum will be revealed in the next two weeks.
Asked whether he was experimenting with a shadow Cabinet, Han said the team will focus on putting his policies into practice by collaborating with various industry sectors.
His campaign platform is to make "Taiwan safe and its people wealthy," he said.
Since President Tsai Ing-wen's (蔡英文) administration took office three-and-a-half years ago, however, it has been leading Taiwan in the opposite direction, Han said.
He also denied reports that he plans to ask Taiwan Semiconductor Manufacturing Co (TSMC) founder Morris Chang (張忠謀) to run alongside him on the KMT 2020 presidential ticket.