Taiwan still distinct from China but given asterisk on LSE art work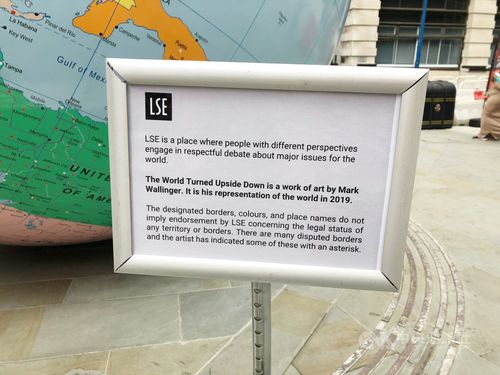 London, July 10 (CNA) Taiwan will remain distinct from China on an art work at the London School of Economics (LSE) that drew protests from Chinese students, but the name Taiwan will be given an asterisk, the school has said.
The controversy erupted in March when a sculptured globe created by Mark Wallinger, a Turner Prize winner, showed Taiwan and China identified by different colors.
That drew the ire of Chinese students who claimed that Taiwan is a part of China and should have the same color as China, a view that the LSE at one point endorsed.
In an email sent to CNA early Wednesday morning, however, an LSE spokesperson wrote that, "I can confirm that that the colour and name of Taiwan is NOT being changed."
The only changes made, the spokesperson said, were that an asterisk has been placed next to Taiwan's name to suggest there is a territorial dispute and a message board has been set up to welcome people to debate the issue.
In a statement posted on the message board, the school wrote: "LSE is a place where people with different perspectives engage in respectful debate about major issues for the world. The World Turned Upside Down is a work of art by Mark Wallinger. It is his representation of the world in 2019.
"The designated borders, colours, and place names do not imply endorsement by LSE concerning the legal status of any territory or borders. There are many disputed borders and the artist has indicated some of these with an asterisk."
The school said an asterisk has also been placed next to the name of Palestine on the outdoor sculptured globe, which measures 4 meters in diameter.
The school attributed the decision to add the asterisks but maintained the colors of the different countries separate to Wallinger, who used the color pink and the name "Rep. China (Taiwan)" to identify Taiwan while China was colored yellow.
The difference in colors triggered a protest by Chinese students at the school in March, leading to a meeting at which the school decided to change Taiwan's color to yellow to match that of China.
It also decided to change the red dot for Taipei, Taiwan's capital, to black, demoting it from a capital city of a country to a regular city in a province of China.
That in turn sparked protests from Taiwanese students and a petition drive supported by 14,000 people urging the school to withdraw its decision and respect Taiwan as a distinctive entity from China.
Taiwan's Ministry of Foreign Affairs, meanwhile, hailed the school for respecting Wallinger's artistic freedom in displaying Taiwan and China as two separate entities and thanked all parties concerned for how the issue was resolved.