U.S.-Taiwan MOU to protect against cross-border abduction: official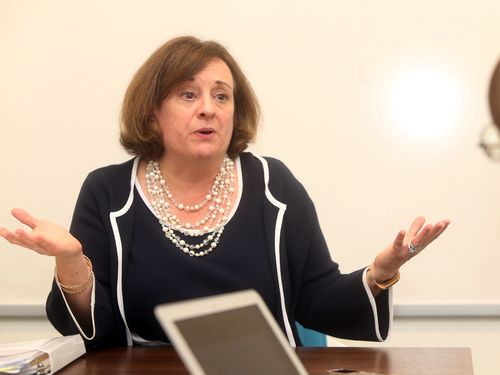 Taipei, May 31 (CNA) A recently signed U.S.-Taiwan agreement on international parental child abduction is a great first step toward further cooperation between the two democracies to better protect children involved in cross-border abduction, a visiting U.S. official said Friday.
Suzanne Lawrence, the U.S. Department of State special adviser for children's issues, told CNA that the Memorandum of Understanding (MOU) signed last month helps the authorities on both sides to establish direct lines of contact to jointly address the issue.
"One of the great benefits of signing this kind of agreement is that you're basically committing to having lines of communication, and you know where to go when a problem comes up," she said, adding that this is "a great first step."
Lawrence was referring to the MOU on Cooperation on International Parental Child Abduction (IPCA) signed April 12 by representatives from both countries in Washington, D.C.
The MOU heralds the founding of the joint commission on IPCA, the debut meeting of which was held earlier Friday in Taipei, opened by Lawrence.
The commission provides a forum for the U.S. and Taiwan to cooperate in efforts to address international parental child abduction.
International parental child abduction is defined by the U.S. State Department as the removal or retention of a child outside their country of habitual residence in breach of the other parent or guardian's custody rights.
According to Taiwan's Minister of Health and Welfare Chen Shih-chung (陳時中), the joint commission on IPCA will be held every six months.
Although such cross-border abduction cases between Taiwan and the U.S. are relatively few, Chen said nevertheless that no-one should be left behind.
Lawrence told CNA that there were only three reported cases involving Taiwan in 2018, citing an annual U.S. government report on cross-border parental child abduction released earlier this month.
But she also noted that as the U.S. and Taiwan have seen greater numbers of travelers in recent years, the risks that accompany increased travel and greater interconnectedness between the two societies have also increased.
Lawrence said that children and parents involved in such cases are undergoing very emotional and traumatic experiences and thus, governments around the world are doing their best to prevent these tragedies from happening.
After taking part in the meeting in Taipei, the U.S. official praised Taiwan for doing a good job in tackling the issue.
Internationally, however, Taiwan's special situation in the global community makes the task even more challenging than others, she noted.
"Taiwan's special status prevents it from acceding to the Hague Convention. And so we are pleased to be able to find a way to work cooperatively again, in the spirit of resolving these cases, through an MOU with you," she said.
The Hague Abduction Convention, a treaty signed by countries around the world in 1980, is meant to protect children from the harmful effects of international abduction by a parent. Not a member of the United Nations, Taiwan has been unable to join the convention or sign the treaty.
Aside from attending the debut meeting, Lawrence also met government officials and child welfare groups to learn about Taiwan's policies in the area and to deepen bilateral exchanges and cooperation during her three-day stay that concluded Friday.