Hon Hai chairman complains about being squeezed by KMT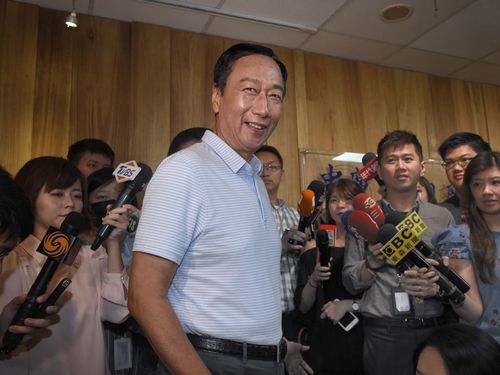 Taipei, May 31 (CNA) Terry Gou (郭台銘), a business tycoon who is hopeful about winning the opposition Kuomintang (KMT) primary for the 2020 presidential election, complained Friday about being squeezed by the party, while touting himself as the best bet for the next presidency.
"Although the other KMT presidential hopefuls are all respected rivals with their own edges, I am the best choice for voters from the economic point of view," Gou, chairman of Hon Hai Precision Industry Co., said in a radio interview hosted by KMT Vice Chairman Hau Lung-bin (郝龍斌).
Gou boasted that he is strong in innovating technology and boosting the economy, which he said gives him an edge over the other contenders, including Kaohsiung Mayor Han Kuo-yu (韓國瑜), who enjoys widespread support among grassroots people and leads in multiple surveys ahead of the presidential election in January.
Gou, one of Taiwan's richest men, also proposed levying a tax to achieve equal distribution of wealth.
According to Gou, his initial idea is that the top 100 richest people should be taxed an additional NT$300 million (US$9.5 million) per year, the 101st-500th NT$200 million and the 501st-1,000th NT$100 million.
While reiterating that the KMT should field its candidate through a primary based on public opinion polls on mobile phones instead of on landlines to better reflect voter choices, he complained that the KMT has turned a deaf ear to him and that "no one listens to me."
Asked by reporters to comment on the issue, Eric Chu (朱立倫), a former New Taipei mayor who has also signed in for the KMT's presidential primary, called for unity within the party.
"Now that the rules of the game have been set, we'd better stick to them," he urged, pointing out that "it is worrisome that the KMT's approval rate has been declining."
"No matter who is nominated in July to represent the KMT, everyone must stand united behind him," he said.