Freeway to be partially closed for annual military drill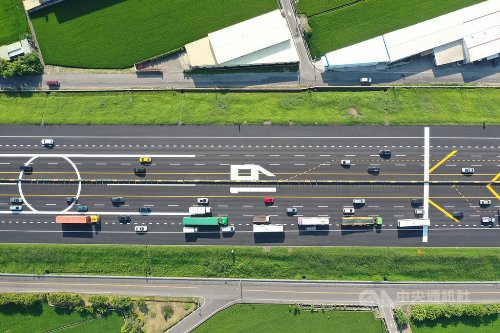 Taipei, May 27 (CNA) The section of road between Changhua City and Yuanlin City in Changhua County on the No. 1 National Freeway will be closed from 10:00 p.m. Monday to 12 p.m. Tuesday as part of the Han Kuang series of military exercises, Taiwan's largest annual military drill, according to the Ministry of National Defense (MND).
The five-day Han Kuang exercises started on Monday and are designed to test the combat capability of all branches of the armed forces, in the face of a continued military threat from China.
The aircraft will practice emergency take-offs and landings in the central county of Changhua from 6:15 a.m. to 7:35 a.m. on Tuesday, on the Changhua-Yuanlin section of the main north-south No. 1 National Freeway that runs along the island's west coast, according to the MND.
The exercise on the freeway-transformed defense road is being staged for the first time since President Tsai Ing-wen (蔡英文) took office in May 2016.
In preparation for the drill, 1,375 median barriers, 111 street lights and 77 road signs have been removed from the section of the freeway, according to the Freeway Bureau.
the Changhua-Yuanlin section of the main north-south No. 1 National Freeway ( photo courtesy of the Freeway Bureau )
photo courtesy of the Freeway Bureau
Each designated emergency runway on the freeway is nearly three kilometers in length, the bureau said Sunday, adding that road maintenance, including resurfacing, has been carried out in preparation for the exercises.
After the drill, southbound lanes on the Changhua-Yuanlin section of No. 1 National Freeway and the southbound ramp on the Puyan Interchange will be closed again from 10:00 p.m. Tuesday to 6 a.m. Wednesday for freeway restoration work, the bureau said, advising motorists to take Provincial Highway 19 instead.
During the May 27-31 military exercises, live-fire drills will involve U.S.-made F-16V fighter jets, Taiwan's indigenous Clouded Leopard armored vehicles and two U.S.-made Perry-class guided missile frigates, according to the MND.
Three of the main fighter aircraft models in Taiwan's military -- the F-16 A/B, Mirage 2000-5 and Indigenous Defensive Fighter (IDF) -- will take part in the exercises, along with E-2K airborne early warning aircraft, the Air Force said Sunday.
As for the planned military exercise in the southern county of Pingtung on Thursday, which will be open to media coverage, it will involve attack helicopters, Thunderbolt-2000 missiles, CM11and CM22 armored vehicles, M110 self-propelled howitzers and CM-34 Clouded Leopard eight-wheeled armored vehicles, according the ministry.
The Han Kuang exercises are annually held in two stages: first computer-aided war games before live-fire drills.
This year's computer-aided war games were held from April 22 to April 26.