U.S., Germany, U.K. speak for Taiwan at WHA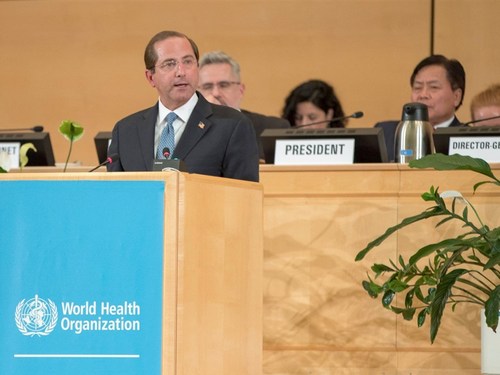 Geneva, May 20 (CNA) The United States, Germany, and the United Kingdom spoke out for Taiwan during the first day of the World Health Assembly (WHA) in support of its participation in the annual meeting.
This year's WHA opened in Geneva on Monday, with Taiwan blocked from participating by Beijing for the third consecutive year.
A late proposal by 14 of Taiwan's diplomatic allies to invite Taiwan to participate in the WHA, the World Health Organization's decision-making body, also failed to make it onto the agenda for discussion after two-on-two debates.
Those setbacks led a few countries to voice direct and indirect support for Taiwan during the assembly later in the day.
"We regret that once again Taiwan was not invited to observe at this assembly as they were from 2009 to 2016. The 23 million people in Taiwan deserve a voice just as much as anyone else does," said United States Health and Human Services Secretary Alex Azar.
Both the global health security agenda and vaccination campaigns benefit from the involvement of every nation, people, and sector, Azar said.
He earlier said in an interview that despite the United States' good relations with China, it still strongly supports restoration of Taiwan's observer status at the WHA.
German and British officials voiced support for Taiwan without mentioning the country's name.
"Health for all also means there can be no white spots on the world map. Global health challenges do not stop at borders. Consequently, the WHO should be a forum for all relevant partners," said German Health Minister Jens Spahn.
Baroness Blackwood, U.K. parliamentary under secretary of state of health, added British support.
"Given the global reach and often rapid spread of such health emergencies, it is also important for all relevant administrations to be included in this forum to ensure the discussions on global health security benefit from their valuable experiences and expertise," Blackwood said.
Beijing blocked the WHO from inviting Taiwan to the WHA for a third year in a row since President Tsai Ing-wen (蔡英文) of the pro-independence Democratic Progressive Party (DPP) took office in May 2016.
Taiwan attended the gathering from 2009 to 2016 as an observer when its relations with China were better.