Taiwan's health minister arrives in Geneva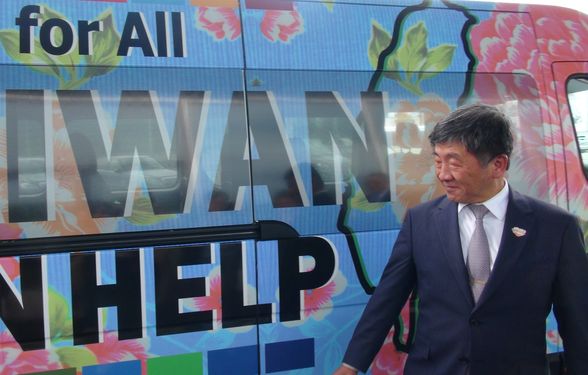 Geneva, May 18 (CNA) Minister of Health and Welfare Chen Shih-chung (陳時中) arrived Saturday in Geneva, where he will take part in events on the sidelines of the May 20-28 World Health Assembly (WHA) to highlight Taiwan's willingness to contribute to global health, even though it was not invited to attend the meeting.
Prior to his departure from Taiwan, Chen stressed that Taiwan's participation in the WHA, the decision-making body of the World Health Organization, was essential to both the island and the world's efforts to prevent epidemics.
When asked if Taiwan will receive support on the matter from more allies this year, Chen said that due to years-long effort, the international community recognizes Taiwan's strengths in healthcare.
Therefore, Chen said, apart from Taiwan's diplomatic allies, many like-minded countries have voiced their support for Taiwan's WHA participation.
During this trip, the minister said he will attend bilateral talks and participate in rallies, hoping to make the country's voices heard.
To further push for Taiwan's participation in WHA, the nation has launched campaigns in Geneva, including an advertisement titled "Taiwan Can Help" and "Health For All" on the bus and TaxiBike, the eco-friendly electric bicycles operating mostly at tourist attractions in Geneva.
Campaign advertisements can also be seen in the vicinity of hotels where delegations of WHA participating countries stay.
A source familiar with the matter told CNA on Thursday that the second wave of campaign will be launched after Chen's arrival.
In addition to the government's effort to highlight Taiwan's desire to be included in the WHA, a 40-member delegation comprising of representatives from a civic group also embarked on a trip to Geneva on Thursday.
The Taiwan United Nations Alliance seeks to emphasize Taiwan's merits as a valuable partner on enhancing global disease prevention by distributing 5,000 copies of campaign materials, which were printed in four languages, by Lake Geneva, a popular tourist destination in the European city.
Taiwan had hoped to attend this year's WHA as an observer, as it had done in the past few years, but it did not receive an invitation from the WHO, due to China's opposition.
Taiwan first attended the WHA meeting as an observer in 2009, a year after former President Ma Ying-jeou (馬英九) came into power and worked toward reducing tensions and improving relations with Beijing.
Taiwan's exclusion is widely seen as one of the moves by China to further clamp down on Taiwan's ability to participate in international events, a strategy that has become more aggressive since President Tsai Ing-wen (蔡英文) from the independence-leaning Democratic Progressive Party came into power in May 2016.
Given the current deadlock in cross-strait relations, Taiwan's opposition Kuomintang (KMT) issued a statement on Saturday urging China to offer an olive branch by sharing epidemic prevention information with Taiwan through the WHO.
Such a gesture, the statement said, might appeal to Taiwanese people and lead to win-win outcomes.
The KMT also urged the WHO to include Taiwan, as the enjoyment of the highest attainable standard of health is one of the fundamental rights of every human being, citing the organization's constitution.