Int'l human rights group to hold first Asian congress in Taiwan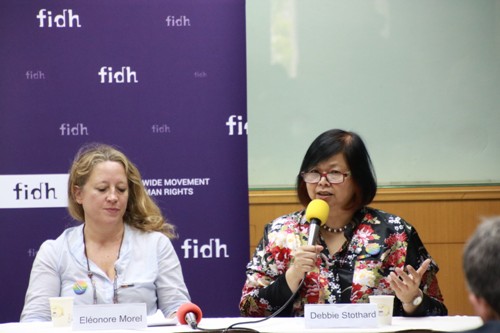 Taipei, May 16 (CNA) The International Federation for Human Rights (FIDH), a Paris-based human rights group consisting of 184 organizations, announced Thursday that it has chosen Taiwan as the location for its first congress in Asia, citing the nation's inspiring human rights and democracy achievements.
"We are very excited to announce ... that we will be having our Congress for the first time in Asia in Taiwan, which will bring together representatives from our 184 national human rights organizations from 112 countries," FIDH Secretary-General Debbie Stothard told a press conference in Taipei.
Although Taiwan's human rights and democracy records and democratic transformation have been an inspiration, Stothard said the determining factor in its decision to hold its next congress in Taiwan was actually the result of long-term advocacy efforts by Taiwanese civic groups such as the Taiwan Association for Human Rights (TAHR), a FIDH member, and the Taiwan Alliance to End the Death Penalty.
They have been creatively, energetically and determinedly fighting for human rights in Taiwan while extending their solidarity to other struggles around the world, Stothard said.
Established in 1922, the FIDH is a non-partisan, non-profit apolitical organization that endeavors to join hands with local, national, regional and international organizations to take joint actions to address human rights violations and protect human rights and freedoms.
Currently, only one of FIDH's 184 member organizations are from Taiwan, but the Taiwan-based Covenants Watch is also applying to become a member.
According to FIDH Chief Executive Officer Eléonore Morel, the congress will be the 40th and will take place Oct. 23-25.
It will be preceded by a two-day human rights forum focusing on the protection of the universality of human rights, the consolidation of human rights movements, and new emerging issues that could have a negative impact on human rights, such as climate change, digital technology and artificial intelligence, Morel said.
Morel said other issues that will be touched upon will include youth participation in human rights movements, death-row inmates, the indigenous community and women's rights.
"We also want to look at the LGBTI movement and we know that in Taiwan, this movement has been very strong and very efficient in bringing the issue to the national stage. We really want to get into the situation of this movement and share it with our member organizations," she said.
As Taiwanese lawmakers are expected to vote on three same-sex relationship bills Friday to make same-sex relationships legal before a May 24 deadline set by Constitutional Court Interpretation No. 748, all the participants at the press conference wore a rainbow pin in a demonstration of support for Taiwan's gay and lesbian community.
The passage and enactment of a marriage equality bill is one of the four issues FIDH representatives raised during meetings with Legislative Speaker Su Jia-chyuan (蘇嘉全) and Deputy Foreign Minister Hsu Szu-chien (徐斯儉) earlier this week, Stothard noted.
Stothard said they also expressed hope that the Taiwan government will soon pass a refugee act, make legal and policy commitments to better protect freedom of expression and assembly, and take significant steps to end the death penalty.
"We hope by the time we have the congress in Taipei ... we are here to congratulate Taiwan on progress on human rights," she said.
TAHR board member Wu Jia-zhen (吳佳臻) said that in light of a recent regression of human rights development worldwide, international and concerted efforts are necessary.
She said she hopes the upcoming forum and FIDH congress will allow Taiwanese civic societies to build stronger partnerships with international organizations and encourage the government to gain a better understanding of various human rights issues.