Taipei mayor attends launch of Chen Shui-bian memoir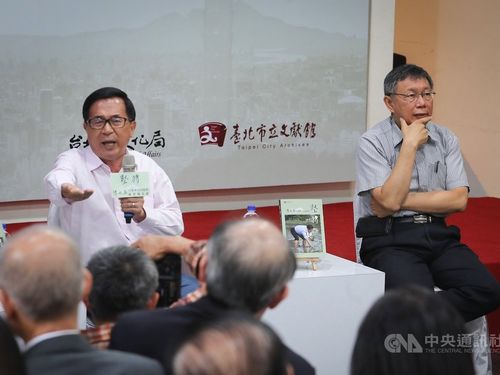 Taipei, May 5 (CNA) Former President Chen Shui-bian (陳水扁) and Taipei Mayor Ko Wen-je (柯文哲) attended an event held by the Taipei City Archive on Sunday to mark the launch of a memoir on Chen's life.
Chen, who has been on medical parole since Jan. 5, 2015, attended the book launch after obtaining approval to do so from Taichung Prison.
Extending his shaking right arm, a visibly angry Chen told photographers at the beginning of the event: "Take a photo and see if it is shaking or not."
He said his hand-tremor has been diagnosed by medical experts.
Chen was rebutting speculation by some in the media that he pretending to be ill to secure medical parole.
The memoir was originally intended to be launched at the end of his second term as president in 2008, but the plan was shelved after former Democratic Progressive Party Chairman Shih Ming-teh (施明德) led a campaign for Chen to resign in 2006, according to Chen.
He later asked former Academia Historica President Chang Yen-hsien (張炎憲) to restart the memoir project but was imprisoned in 2009 and Chang passed away in 2014, Chen said.
After so many twists and turns, Chen said he decided to call the memoir "Persistence: An Oral Memoir by Chen Shui-bian."
The memoir contains several stories from his time as mayor of Taipei City from 1994-1998, an experience Chen said made him realize that the mayor is a public servant who works for the residents of the city.
Chen, 68, who served two terms as president from 2000-2008, was embroiled in corruption scandals after leaving office that led to several indictments and a sentence of 20 years in jail.
At Sunday's event, Ko, the former head of Chen's personal medical team, said that seeing how life in prison impacted Chen's health was something he would never forget.
The treatment Chen endured in prison should not happen in a civilized country, Ko said, blaming the former president's problems with psychosomatic disorders on his time in prison.
Ko noted that anything that happens in Taiwan is part of its history, and the oral memoir by Chen represents his view on part of that history.
The book contains 200,000 Chinese characters, including 130,000 that make up Chen's oral memoir, according to the Taipei City Archive.
This is the first time Ko and Chen have appeared in public together since Ko took office in December 2014.