Academics, civic groups call for Tsai-Lai presidential ticket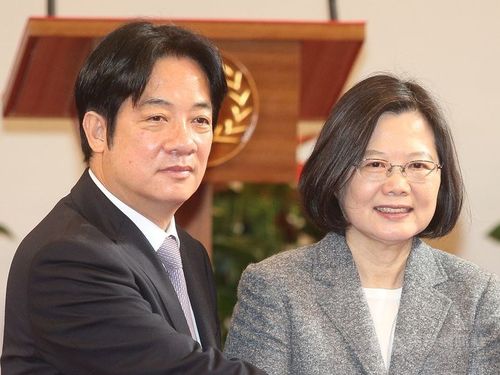 Taipei, April 25 (CNA) Pro-Taiwan independence academics and civic groups on Thursday called for President Tsai Ing-wen (蔡英文) and former Premier Lai Ching-te (賴清德) to run on the Democratic Progressive Party (DPP) ticket in the 2020 presidential election to ensure survival of a "local regime."
In a joint statement, presidential advisor Lee Ming-liang (李明亮), academician Liao Yun-fan (廖運範), former representative to Japan Lo Fu-chen (羅福全) and others urged Tsai and Lai to put aside their differences and run on the same ticket next January, in view of an expected strong challenge by the opposition Kuomintang (KMT).
"We appeal to President Tsai and former Premier Lai to work together and fight for survival of a local administration at this difficult time when the popularity of potential KMT contenders Kaohsiung Mayor Han Kuo-yu (韓國瑜) and Hon Hai Precision Industry Co. Chairman Terry Gou (郭台銘) is rising rapidly in Taiwan," the statement said.
The growing popularity of Han and Kuo will have an impact on DPP supporters, the statement said, adding that neither Tsai nor Lai on their own will be able to defeat the KMT.
Tsai and Lai must come together to secure a win for the DPP in an election that is crucial to Taiwan's future, the advocates said.
The 2020 presidential election will revolve around pro-China versus pro-United States choices, rather than the usual issue of independence versus unification, the academics and groups said.
"With the local regime set to face a critical point in 2020, we earnestly ask that President Tsai and former Premier Lai pay heed to the people's expectations and work together so that the local regime can live on," the statement said.
Tsai and Lai have been locked in fierce competition for the DPP nomination since they registered for the primary, which has been delayed as the party has been seeking mediation between the two contenders.
The academics and civic groups said the DPP's top priority now should be to win the 2020 presidential election to ensure survival of the "local regime," and that a rash primary would be a waste of time.
The party has a chance of winning if it puts Tsai and Lai on its presidential ticket, according to the advocates.
There is precedent for circumventing a primary, they noted, citing the direct selection in 2003 of then President Chen Shui-bian (陳水扁), who went on to secure a second term in the 2004 presidential election.