Pope's special envoy attends inauguration of senior care home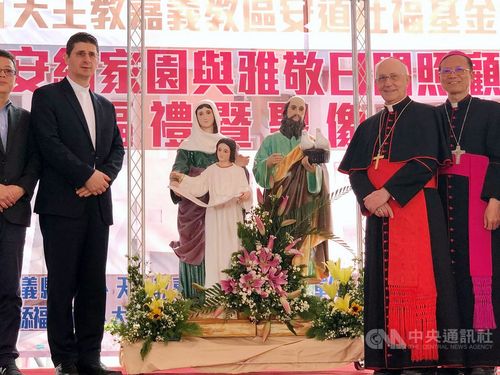 Taipei, March 2 (CNA) Cardinal Fernando Filoni, Pope Francis' special envoy and prefect of the Congregation for the Evangelization of Peoples, on Saturday attended the unveiling of a statue of the Holy Family at a newly-inaugurated senior care home in Chiayi County.
The ceremony was welcomed by many Catholics, and the event also saw the presence of Chiayi Bishop Chung An-chu (鍾安住) and Monsignor Sladan Cosic, charge d'affaires of the Holy See's diplomatic mission in Taiwan.
At the event, Filoni said the church was a big family and that everyone was a child of the Holy Father.
The new facility, funded by the Diocese of Chiayi, combines a place of worship and a nursing home for senior citizens, including those with dementia, as well as the physically disabled.
The facility is a place where all seniors citizens who need care are accepted, Filoni told reporters.
The more tolerant the society is, the more stable and developed it becomes, he said.
The senior care home is expected to provide 97 beds for the physically disabled and patients with dementia starting in October.
Asked about the diplomatic relations between Taiwan and the Holy See, the Cardinal said Pope Francis only mentioned the importance of friendships, and that no one should forget their brotherly affections.
Regarding the Pope's message to President Tsai Ing-wen (蔡英文), Filoni said he was happy to have met with the president, as well as Vice President Chen Chien-jen (陳建仁), and that the Pope's message to Taiwan was "caring, respect and appreciation."
Filoni arrived in Taiwan on Thursday to attend the National Eucharistic Congress, which is a gathering of clergy and lay people to bear witness to the real presence of Jesus in the Eucharist, an important Roman Catholic doctrine.
Since 2011, Taiwan's seven Catholic dioceses have been taking turns to hold the event every two to three years. This year's National Eucharistic Congress was hosted by the Diocese of Chiayi, but held at the nearby Yunlin County stadium.
On Saturday, Cardinal Filoni also visited Fu Jen Catholic University Hospital in New Taipei, where he extended his blessings on behalf of the Pope to the local staff.