Taipei mayor touts Israel's strengths after 5-day visit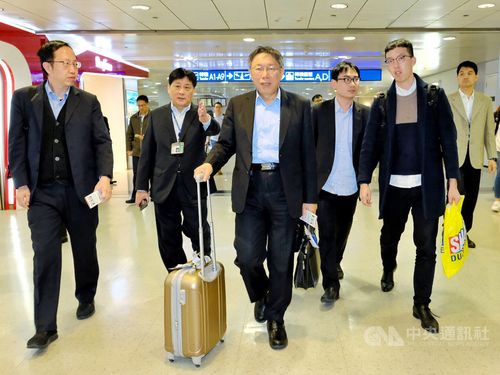 Taipei, Feb. 27 (CNA) Taipei Mayor Ko Wen-je (柯文哲) returned Wednesday from a five-day visit to Israel, saying he hoped to see further cooperation with that country, particularly in the innovative industries.
"It was a fruitful visit," Ko told reporters on arrival at Taiwan Taoyuan International Airport. "Taiwan can learn a lot from Israel, which is small but strong."
In particular, Israel's strength in applied and basic sciences and its policy of subsidizing innovation industries are worthy of emulation, he said.
Taipei will also discuss with Israel about opportunities for cooperation in the development of autonomous vehicles and information security, Ko said.
During the visit, which was arranged primarily by the Israeli Ministry of Foreign Affairs, Ko met with Israel's vice foreign minister, visited the Israel Innovation Authority and toured Tel Aviv and Jerusalem.
He also took part in the 33rd International Mayors' Conference and visited the Weizmann Institute of Science -- the equivalent of Taiwan's Academia Sinica.
Ko said he also met with some Israeli parliamentarians and discussed with them issues related to national defense.
On his own time, Ko said, he visited the autonomous vehicle company Mobileye.
Meanwhile, the mayor is scheduled to visit New York, Washington, Atlanta and Boston in the United States from March 16 to 23.
In Washington, he will give a speech on Taiwan's democracy and diversity.
An independent politician, Ko is seen as a strong contender for president in the 2020 election, although he has not declared an intention to run. Several polls have showed him as the favorite in a field of potential candidates from the ruling Democratic Progressive Party and major opposition Kuomintang.