Taiwan committed to economic, trade liberalization: President Tsai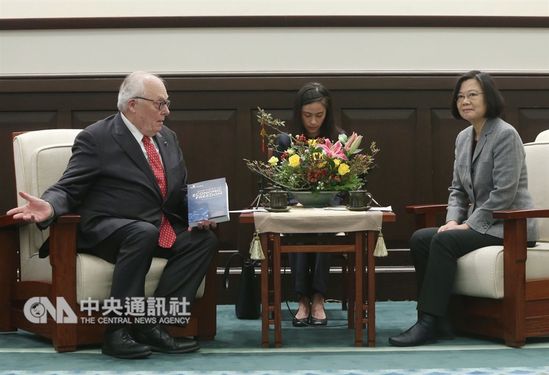 Taipei, Jan. 31 (CNA) Taiwan is moving toward further opening of its trade and economy, while seeking greater cooperation with the United States, President Tsai Ing-wen (蔡英文) said Thursday.
Over the years, the rapid development of globalization and digital technologies has presented both opportunities and challenges for governments worldwide, Tsai said, in a meeting with a delegation led by Edwin J. Feulner Jr., co-founder of the Washington-based Heritage Foundation.
Tsai said that since she took office in 2016, her administration has been making great efforts to ensure that Taiwan can adapt to the changing environment, by easing rules and regulations, laying a solid foundation in the areas of economics and finance, opening up its market and embarking on energy transition.
The recent deal signed by the American technology giant Google to purchase renewable energy in Taiwan was recognition of Taiwan's efforts in the area of energy transition, Tsai said.
She said her administration will also continue its efforts to solidify Taiwan's adherence to democracy and the rule of law because such values are closely linked to a country's development in many aspects, including economic freedom, society, human capital, and poverty eradication.
The president also thanked the U.S. for its recent expression of support for Taiwan's participation in the World Health Organization and said Taiwan is looking forward to enhancing its cooperation with the U.S. so it can make a greater contribution to the world.
In response, Feulner said he would urge his American colleagues to work closely with the Tsai administration to move toward a free trade agreement (FTA) between the U.S. and Taiwan.
A bilateral FTA would be very much in the interests of both sides and would help strengthen their economic ties, he said.
Feulner and his delegation were in Taiwan for a forum at which they presented the Heritage Foundation's annual "Index of Economic Freedom" report for 2019.
According to the 2019 report, which was presented Thursday, Taiwan ranks 10th out of 186 countries and territories in the world in terms of economic freedom, its best showing since 2008, scoring 77.3 out of 100, up 0.7 points from last year.