Taiwan pledges to work with Paraguay on trade, infrastructure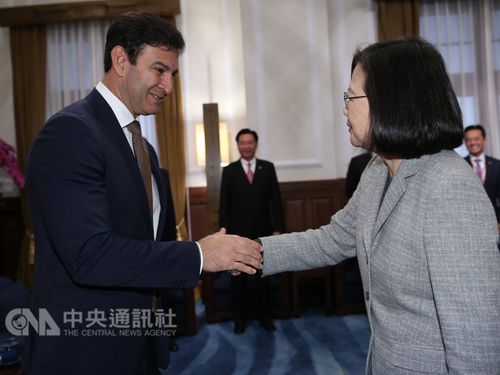 Taipei, Jan. 28 (CNA) Taiwan expects to work hand in hand with Paraguay to advance bilateral trade and investment and develop public infrastructure to create a win-win situation for both countries, President Tsai Ing-wen (蔡英文) said Monday.
Tsai made the pledge while welcoming a visiting delegation led by Silvio Ovelar, president of the Chamber of Senators of Paraguay, Taiwan's only diplomatic ally in South America.
The visits to Taiwan by Ovelar, the delegates, and other Paraguayan friends of Taiwan over the years have contributed to deepening the friendship between the two countries that has lasted for 61 years, Tsai said.
She told the delegation that her administration is committed to enhancing bilateral cooperation in trade, investment and infrastructure based on talks she had with Paraguayan President Mario Abdo Benitez during his state visit to Taiwan in October 2018.
In December, Taiwan and Paraguay concluded months of negotiations and signed a five-year memorandum of understanding (MOU) worth US$150 million that focuses on projects related to humanitarian and social aid, education, housing, and public infrastructure, according to Taiwan's Foreign Ministry.
Tsai expressed her gratitude to the delegation for ratifying the MOU within a week of its signing, which she said will facilitate the implementation of the cooperative projects.