Premier retracts decision to resign, citing need for continuity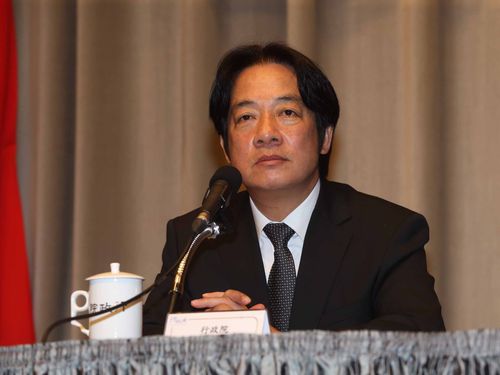 Taipei, Nov. 26 (CNA) Premier Lai Ching-te (賴清德) said Monday that he has decided to remain in his post in the interest of continuity, after his Democratic Progressive Party's (DPP) defeat in the local government elections on Saturday.
Lai, who was appointed premier in September 2017, offered on Saturday night to resign to take responsibility for the DPP's drubbing at the polls but President Tsai Ing-wen (蔡英文) said she would not accept his resignation.
At a news conference Monday, Lai said that after discussions with Tsai the previous day he had decided to remain as premier to help advance the government's policies.
"The election results showed that many people in Taiwan are unhappy with the government's performance," Lai said. "But the country needs continuity of government policy so I will stay on to ensure political stability."
"I promise the Cabinet will work with all of the local governments and provide the necessary assistance to them for major development projects throughout the country to improve the people's welfare," he said.
Lai said he is scheduled to deliver a report to the Legislature on Tuesday about an express train accident in Yilan County last month that killed 18 people and left 210 injured.
The premier said he will also continue the government's efforts to join the Comprehensive and Progressive Agreement for Trans-Pacific Partnership (CPTPP). On the question of whether there will be a Cabinet reshuffle, Lai said he will make adjustments at an appropriate time in line with the public's expectations.
Meanwhile, Presidential Office Secretary-General Chen Chu (陳菊) has also retracted her decision to resign in the wake of the elections, according to the Presidential Office.
In a statement Monday, Presidential Office spokesman Alex Huang (黃重諺) said Chen made a decision to stay on in the interest of political stability.
In Saturday's elections, the DPP suffered a crushing defeat, taking only six of the 22 city and county seats nationwide, while the opposition Kuomintang (KMT) won 15. The DPP lost more than half of the 13 seats it had held prior to the elections, while the KMT gained nine. In the six special municipalities, the DPP was unseated in Taichung and in one of its strongholds, Kaohsiung.
After the results were released, President Tsai apologized to supporters for her party's disappointing performance in the elections and later resigned as DPP chairwoman to take responsibility for the major setback.
Alongside the local government elections, 10 referendums were also held Saturday, with three of them being rejected, including one on the legalization of gay marriage in Taiwan.