New Southbound Policy sees results, but challenges remain: expert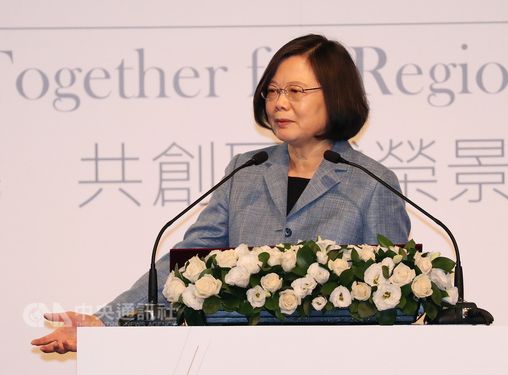 Taipei, Oct. 12 (CNA) Taiwan has made early achievements in advancing its new strategy to engage with regional countries under President Tsai Ing-wen's (蔡英文) New Southbound Policy (NSP), but challenges still exist, a visiting American expert said Friday.
Bonnie Glaser, senior adviser for Asia and director of the China Power Project at Washington-based think tank Center for Strategic and International Studies, said the strategy's early success stems from having a different focus than previous "Go South" policies.
Tsai's approach is more "strategic and comprehensive" because its focus is not just to boost Taiwan's economic prospects but also to "deepen interpersonal connections with people across the region," Glaser said at a luncheon at the Yushan Forum.
Described by the Tsai administration as Taiwan's "regional strategy for Asia," the NSP is targeting at strengthening relations with Southeast Asian and South Asian countries and Australia and New Zealand, in part to reduce Taiwan's dependence on China.
By investing in educational exchanges, one of the major areas in which Taiwan hopes to collaborate with NSP target countries, Tsai's strategy will help to achieve a goal of "enhancing appreciation for Taiwan's interests and its well-being across the region," she said.
The NSP is being implemented at a time of slowing growth and rising wages in China, while investment opportunities in Southeast Asia and South Asia are booming, she said.
U.S. President Donald Trump's tariffs targeting Chinese exports "pose challenges for Taiwan and many other countries, but they also have a bit of a silver lining."
"They are providing some new impetus for some Taiwanese companies based in China to move to NSP countries or even back to Taiwan," she said.
Citing figures showing growth in such areas as student exchanges between Taiwan and NSP target countries, visits by tourists from NSP countries to Taiwan, bilateral investment and trade between Taiwan and those countries, Glaser said the NSP has made early strides.
She noted, however, that Taiwan has yet to make significant progress toward its goal of trade diversification.
"Last year Taiwan's exports to China and Hong Kong increased by 16 percent over 2016. So there's still a lot of trade dependence on China," Glaser said.
There has also not been any progress announced on negotiations for free trade agreements with NSP countries, she said, but Taiwan has signed investment protection agreements with India and the Philippines and established investment service windows in Indonesia, India, Myanmar, the Philippines, Thailand, and Vietnam.
Despite those signs of progress, Taiwan is faced with three challenges in advancing the NSP, she said.
First, Glaser said Taiwan's plan to promote innovative industries, such as e-commerce, smart machinery, and the internet of things all make sense, but "Taiwan is racing against the clock" because American and Chinese multinational corporations have already made inroads in South and Southeast Asia on these fronts.
Glaser said she learned from her trip to Jakarta, Manila and New Delhi in July that those economies have considerable interest in strengthening ties with Taiwan, but they also wondered how they could benefit.
"That means Taipei needs to throw its weight behind specific initiatives where there's a high probability of success."
"Taiwan must identify niche opportunities within these emerging areas for the NSP to succeed," she argued.
Second, Glaser said resources are an inevitable challenge.
While praising the investments Taiwan has made in enhancing educational exchanges with NSP countries, Glaser said cultural exchanges have been "less well resourced."
"There should be greater efforts to hold cultural events in as many NSP countries as possible. Leveraging Taiwan's unique and vibrant culture is one of the best means to cultivate Taiwan's soft power," she said.
Taiwan also face challenges coming from China directly and indirectly, she said.
"NSP countries are sometimes cautious in their interactions with Taiwan because they fear retribution from Beijing. In some cases, China may even be actively urging countries to restrict their cooperation with Taiwan," she said.
The best way to cope with these challenges is to avoid politicizing the NSP and ensure that Taiwan is a good partner and a good friend, Glaser said.
She said Tsai has put forward "the right policy at the right time," but there's much that remains to be done.
"Going forward, I hope Taiwan and the U.S. can find synergies in their respective Indo-Pacific regional strategies and enhance cooperation," she said.
The Yushan Forum was inaugurated last October as an institutionalized platform to promote cooperation among regional countries under the NSP, hosted by the Taiwan-Asia Exchange Foundation, a national think tank focusing on the policy.