Construction of electricity grid project in Haiti to begin: MOFA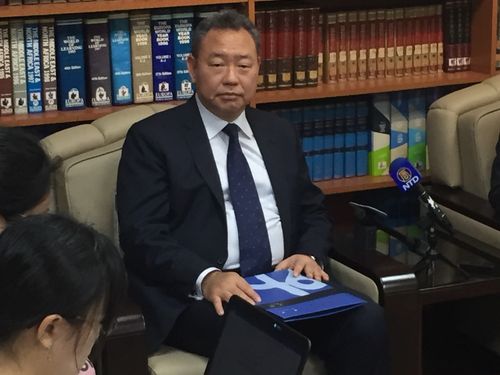 Taipei, Sept. 13 (CNA) Construction of an electricity grid in Taiwan's Caribbean ally Haiti is expected to begin before the end of this year, a Ministry of Foreign Affairs (MOFA) official said Thursday.
The deal is now in the final stage as an on-site investigative team from Taiwan is making final checks in Haiti, Yui Tah-ray (俞大㵢), director-general of MOFA's Department of Latin American and Caribbean Affairs, told a press briefing in Taipei.
Meanwhile, the government is also helping Haiti to secure a US$150 million loan from the Export-Import Bank of the Republic of China, a government-funded bank that offers credit insurance for foreign investment originating in Taiwan, to pay for the project.
Once the deal is signed, the project will officially begin, Yui added.
(Miragoane, Haiti/Photo by Ko Lin)
The project will be the responsibility of Taiwan's Overseas Engineering and Construction Co. and could take around two years to complete, he noted.
The deal will help Haiti build new or upgrade existing electrical substations, electricity distribution networks and transmission towers, and help train people who will be responsible for maintaining the grid, according to MOFA.
Once the deal is sealed, it will become the first project launched with an ally under Taiwan's Official Development Assistance (ODA), a program designed to help countries develop their infrastructure while also getting business for Taiwanese contractors, according to MOFA.
(O.E.C.C. Haiti S.A. compound being used to assist Taiwan's humanitarian efforts in the country following the devastating Jan. 12, 2010 earthquake/Photo by Ko Lin)
Previously commenting on Taiwan's ODA program, Foreign Minister Joseph Wu (吳釗燮) said that strategic loans to Taiwan's diplomatic allies are designed to create "win-win-win situations" and do not represent a return to checkbook diplomacy to compete with China for those allies' allegiance.
During a legislative hearing in May, Wu told lawmakers that Taiwan is no match for Beijing and has no intention of competing with it in offering astronomical sums to lure allies.
"We are not competing with China over allies with financial aid. We are genuinely offering help to them," he said.