Premier explains Cabinet reshuffle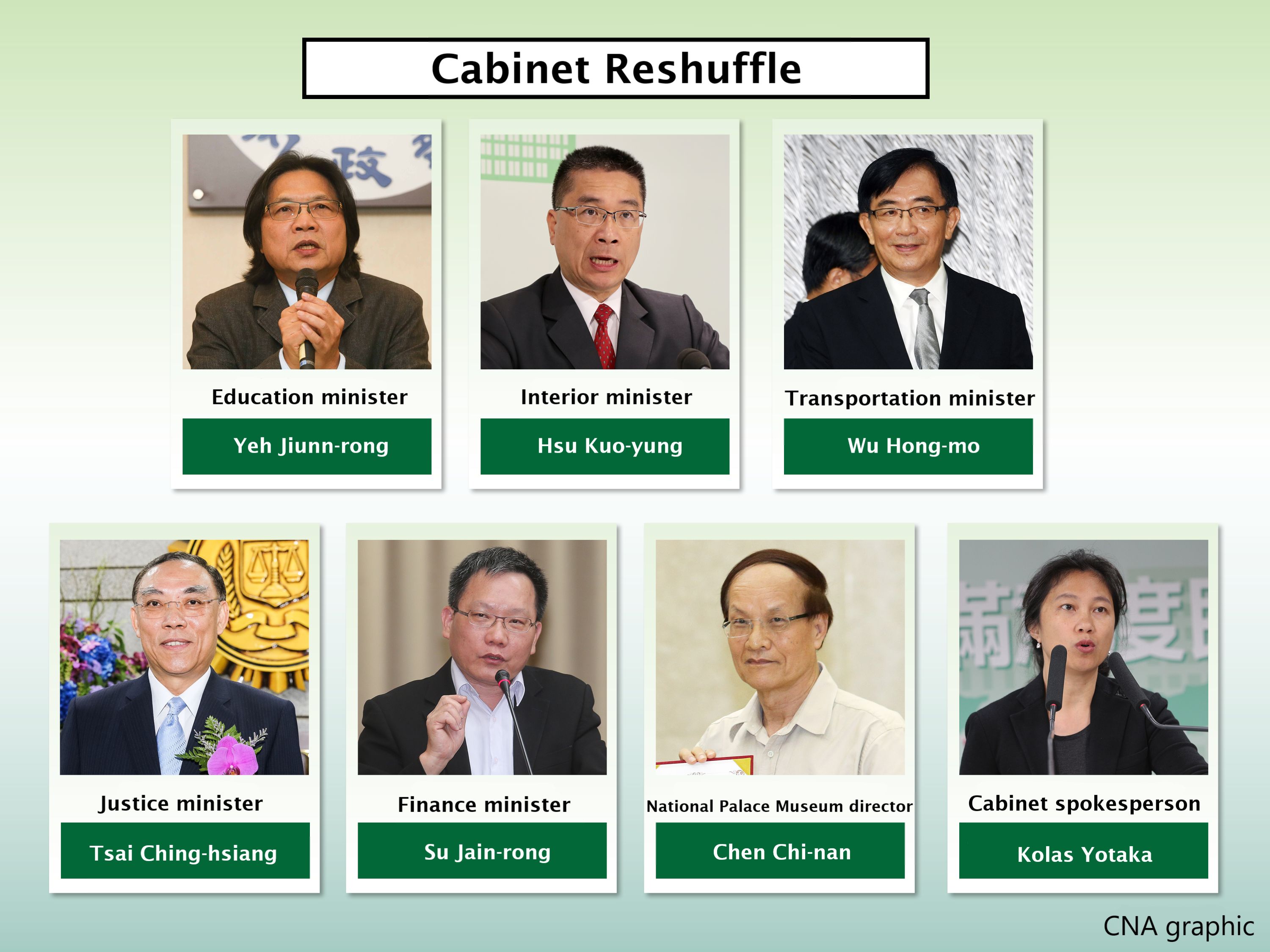 Taipei, July 12 (CNA) The decision to replace four Cabinet ministers was made partly because the outgoing members have conveyed their intention to leave and partly because the government is shifting its mission from policy formulation to implementation, Premier Lai Ching-te (賴清德) said Thursday.
The reshuffle saw Interior Minister Yeh Jiunn-rong (葉俊榮), Minister of Justice Chiu Tai-san (邱太三), Minister of Transportation and Communications Ho Chen Tan (賀陳旦), and Finance Minister Sheu Yu-jer (許虞哲) replaced.
On July 16, Yeh will be succeeded by Cabinet spokesman Hsu Kuo-yung (徐國勇), Chiu by Investigation Bureau Director-General Tsai Ching-hsiang (蔡清祥), Ho Chen by Taiwan International Ports Corp. Chairman Wu Hong-mo (吳宏謀), and Sheu by his deputy Su Jain-rong (蘇建榮), Lai said.
Yeh will take over the post as education minister, Lai said.
Yeh, previously a professor of law at National Taiwan University (NTU), had offered to leave the Cabinet because he has served for as long as he promised when he was recruited to the Cabinet in May 2016 and expressed his wish to return to academia, Lai said.
Controversy over the selection of Kuan Chung-ming (管中閔) by the university's selection committee as president of NTU in January has resulted in the resignation of two ministers of education and the post been vacant since May 29.
Lai said that both he and President Tsai Ing-wen (蔡英文) are grateful to Yeh for his willingness to continue to contribute to the nation.
During his service as interior minister, Yeh has exhibited patience and perseverance, and has embraced idealism and innovation, Lai said, adding that these qualities will serve him well in his new post.
Lai said he has entrusted Hsu with the main tasks of maintaining social order and cracking down on crime and drugs.
Chiu, meanwhile, has also expressed his desire to return to teaching -- he taught financial law at Asia University before joining the Cabinet -- Lai went on, adding that he reluctantly accepted Chiu's offer to quit.
During Chiu's tenure, he was often assailed for his stance on whether to grant amnesty to former President Chen Shui-bian (陳水扁), who is on medical parole from a 20-year jail term for corruption, and on whether to amend the Civil Code to allow same-sex partners to have the same rights as different-sex couples.
The Presidential Office announced later Thursday that Chiu has been appointed to be a member of the National Security Council, an advisory board to the president.
Under the leadership of Tsai Ching-hsiang, the Investigation Bureau has conducted several drug-related sweeps, Lai continued, adding that his appointment as justice minister reflects the Cabinet's determination to clamp down on drugs and maintain social order.
According to Lai, Ho Chen said he has served for one year longer than he initially planned when he was asked to join the Cabinet in May 2016 and that he wished to vacate his position to make way for the younger generation.
Sheu also expressed his wish to hand over the position to the younger generation because he said he has accomplished his mission to oversee tax reforms, Lai said.
Meanwhile, Hsu's position as Cabinet spokesman will be taken over by Kolas Yotaka (谷辣斯.尤達卡), a member of the Amis indigenous tribe and a legislator-at-large of the ruling Democratic Progressive Party (DPP).
National Palace Museum Director Lin Jeng-yi (林正儀) will be replaced by Chen Chi-nan (陳其南), who served as head of the Council of Cultural Affairs (now the Ministry of Culture) during the previous DPP administration.
Hu Jong-I (胡忠一), chief secretary of the Council of Agriculture will succeed Chen Chien-bin (陳建斌) as chief of the council's Agriculture and Food Agency.
That replacement came amid an outcry among fruit farmers over the recent collapse of fruit prices, particularly pineapples, bananas and pitayas, mainly as a result of overproduction.
Lin Te-fu (林德福), head of the Ministry of Education's Sports Administration, will be replaced by Taiwan Sport University President Kao Chin-hsung (高俊雄).
Lin resigned last month amid criticism from sports reform advocates and sports industry executives for his failure to reform sports associations.