Japanese prime minister expresses gratitude to Taiwan for flood aid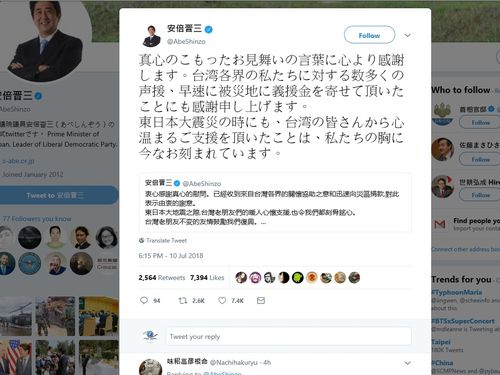 Tokyo, July 10 (CNA) Japanese Prime Minister Shinzo Abe expressed gratitude in Chinese and Japanese on Twitter Tuesday for the sympathy and support extended by Taiwan and President Tsai Ing-wen (蔡英文) in the wake of heavy rain, flooding and landslides that has caused at least 151 deaths in Japan.
In Chinese, Abe wrote that he is thankful for the sincere condolences and sincerely grateful for the prompt assistance and donations from many in Taiwan toward disaster relief efforts.
The warm support of Taiwan in the aftermath of the 2011 Tohoku earthquake and tsunami was also unforgettable, he said.
Abe's response came after Tsai extended her condolences in Japanese to say that Taiwan is ready to provide any necessary assistance.
The president also expressed hope that the victims can recover from the disaster soon and that the areas hit by days of rain will be restored as soon as possible.
Taiwan is also afflicted by frequent heavy rain and has a deep understanding of how severe such disasters can be, Tsai said.
A donation of 20 million Japanese yen (US$181,039) to Japan for flood relief was pledged by Taiwan, the Ministry of Foreign Affairs said in a statement Monday.