New Party spokesman denies accepting money from China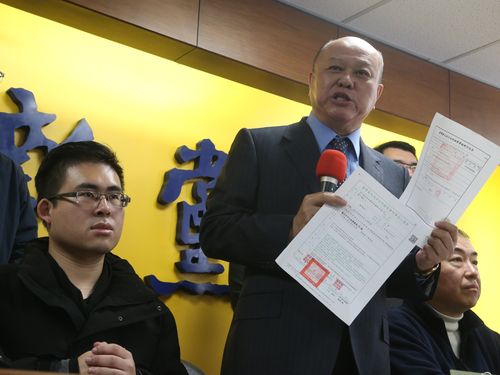 Taipei, Dec. 20 (CNA) New Party (NP) spokesman Wang Ping-chung (王炳忠) denied at a press conference Wednesday allegations of having accepted money from Chinese political or government organizations.
The press conference came in the wake of him and three other members of the party being questioned by Taipei prosecutors a day earlier on suspicion of violating the National Security Act.
New Party (NP) spokesman Wang Ping-chung (王炳忠)
Prosecutors and investigators searched the homes of Wang and the three other members of the pro-unification party early Tuesday before questioning the suspects and Wang's father later that day as part of a probe into suspected leaks of classified information in connection with an espionage investigation against former Chinese student Zhou Hongxu (周泓旭).
Wang responded to media speculation that the authorities found a large amount of Chinese currency in his residence, saying it was from proper business practices, as the money was royalties from publishing and profits from his business investments with friends in China.
Wang also had account books written in simplified Chinese, the version of Chinese characters used in China, which the media portrayed as a further implication of his connections with China.
Li Sheng-feng (李勝峰), the NP's deputy head, said the members that were questioned were summoned as witnesses in Zhou's case and since the case was ongoing, they should have instead been summoned to court.
Hou Han-ting (侯漢廷), one of the NP members that were questioned, said accusations of him having joined the Communist Party are groundless and announced that he will be running for the Taipei City Council next year.
Hou Han-ting (侯漢廷, front left) and Wang Ping-chung (王炳忠, front right)
Asked if Wang will also run as a candidate for public office, Wang replied that he does not reject the idea.
Opposition Kuomintang (KMT) spokesman Hung Meng-kai (洪孟楷), said at a KMT press conference that same day that the Ministry of Justice should explain and issue an apology as to why a witness was treated like a suspect by having police and prosecutors search his home at 6 a.m.
Cabinet spokesman Hsu Kuo-yung (徐國勇) said prosecutors have the authority to independently conduct investigations and that the Executive Yuan has no comment on the matter.