Missile fired by mistake did not cross Taiwan Strait median line: Navy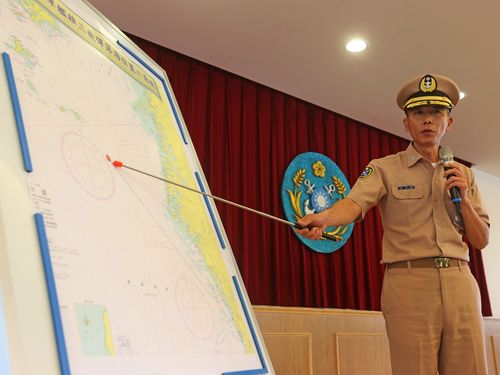 Taipei, July 1 (CNA) Taiwan's Navy said Friday that a supersonic anti-ship missile fired by mistake earlier in the day did not cross the median line of the Taiwan Strait when it fell into waters off outlying Penghu County.
Vice Adm. Mei Chia-shu (梅家樹), the Navy's chief of staff, said that the Hsiung Feng III missile was fired by mistake from one of its 500-ton Chinchiang-class corvettes, which was conducting a drill from a harbor at the Zuoying naval base in Kaohsiung, southern Taiwan.
Responding to reporters' questions at a news conference called in the wake of the incident, he said that the missile, which fell into waters about 40 nautical miles northwest of the military harbor, did not cross the median line of the Taiwan Strait.
The missile fell into waters on the Taiwan side of the median line, according to Mei. The strait, which divides Taiwan and China, has an average width of 180 kilometers (97 nautical miles).
Coincidentally, the incident occurred on the day when the Communist Party of China held a celebration in Beijing to mark the 95th anniversary of the founding of the party.
In response to questions on whether the Navy notified China of the incident and whether Beijing has expressed concerns over the incident, Mei said the Navy has no direct communication channel with China.
But the Navy has reported related information to the National Security Council and other higher-up government agencies to deal with follow-up responses, he said.
Asked if any Chinese military ships appeared near where the missile fell to collect confidential military intelligence such as electronic parameters of the missile, Mei said there are no Chinese electronic surveillance ships in that area.
At the news conference, Mei said that human error is likely to be the reason behind the accidental firing of the missile. Initial information showed that the missile operators did not follow standard procedure when testing equipment during the drill, he added.
In a statement, the Ministry of National Defense said that Gen. Yen De-fa (嚴德發), chief of the general staff, is leading a task force to conduct a further investigation into the incident.
Defense Minister Feng Shih-kuan (馮世寬) instructed deputy chiefs of general staff to head to an emergency center to deal with follow-up issues immediately after the incident occurred, it added.
The locally developed Hsiung Feng III missile reportedly has a range of up to 300 km.
(By Lu Hsin-hui and Elaine Hou)ENDITEM/J
Update: ●Taiwan missile mishap strikes fishing boat, kills captain
Related:●Accidental firing of missile likely due to human error: Navy