DPP to move toward 'nuclear free homeland' in 2025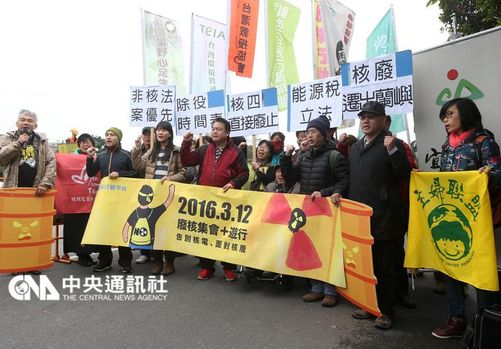 Taipei, March 11 (CNA) On the fifth anniversary of a natural disaster in Japan that triggered a nuclear meltdown, Taiwan's Democratic Progressive Party (DPP) reiterated its commitment to move toward a "nuclear free homeland" by 2025 when it takes power in May.
The new administration's energy policy will include energy sector reforms, energy conservation and carbon emission cuts, the development of green energy, technology innovation, and an increased ratio of clean energy, DPP spokesman Juan Chao-hsiung (阮昭雄) said.
The DPP has proposed the goal of a "nuclear power free homeland" in 2025 and will lay out a substantive plan for Taiwan's next stage of power development without nuclear power, Juan pledged.
It will include the suspension of construction of the fourth nuclear power plant and no extensions of the operations of Taiwan's three active nuclear power plants, which are all scheduled to be decommissioned by 2025.
The party will also implement safety monitoring of the nuclear power plants and strengthen contingency mechanisms, and have Taiwan Power Co. (Taipower), which operates the plants, come up with a plan on decommissioning the plants and report on the costs involved.
It will also seek public consensus in the search for a suitable site for the disposal of nuclear waste, he said.
On March 11, 2011, a powerful earthquake and massive tsunami badly damaged the Fukushima Daiichi nuclear power plant, triggering meltdowns of its reactors that resulted in the release of radioactive substances into the environment.
Juan said the world has become more vigilant over the use of nuclear power since the Fukushima nuclear disaster and some countries have begun to take action.
Taiwan's energy network faces two major structural problems, Juan said. The first is that it relies on imports for 98 percent of its energy needs, and the second is its heavy reliance on nuclear and thermal energy, subjecting people to environmental and health risks.
He said the incumbent government has been unable to guarantee how it would cope if a nuclear disaster like the Fukushima disaster occurred and has not been able to dispose of the nuclear waste that has been generated.
Taiwan's three nuclear power plants have generated nearly 20 percent of the country's electricity in past years.
(by Lu Hsin-hui and Lilian Wu)Enditem/ls