Campaign focuses on Tsai Ing-wen's pets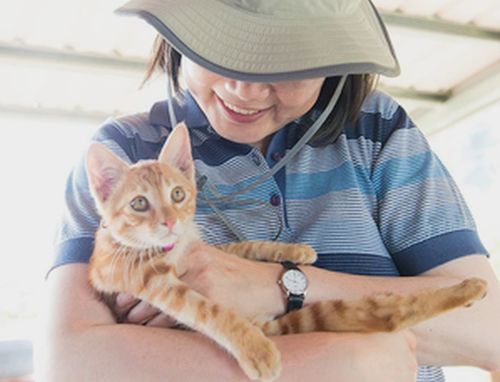 Taipei, Oct. 11 (CNA) Recent materials from Tsai Ing-wen's (蔡英文) campaign office focus on the opposition Democratic Progressive Party (DPP) chairwoman and presidential candidate as an animal lover, with posters of her cats "Think Think" (想想) and "Ah Tsai" (阿才) from Facebook.
An assistant to Tsai revealed on Sunday that pages on cat-related topics have received more hits and the number of viewers pressing "Like" is 20 to 50 percent higher than for pages discussing political issues.
The page showing Ah Tsai receiving a vaccination on Oct. 4 World Animal Day has been especially popular, with nearly 30,000 "Likes" to date.
"Think Think," whom Tsai adopted two years ago, inspired her campaign team to produce the animated film "Cat in a Paper Carton, Think Think," which was released in September.
A photo of Tsai holding "Think Think" is also included in the book "Light up Taiwan" (英派), a recent release that details the chairwoman's political views.
(By S.P. Yeh and Lillian Lin) enditem/ AW