Latest poll places James Soong ahead of KMT candidate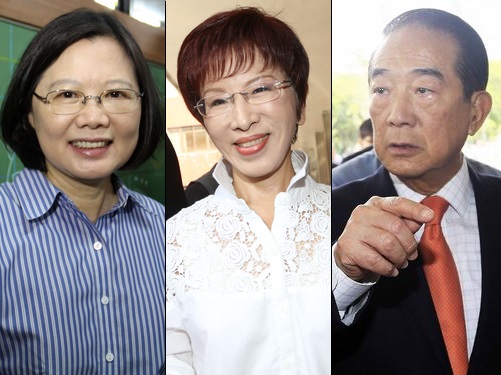 Taipei, Aug. 7 (CNA) James Soong (宋楚瑜), chairman of Taiwan's minority People First Party, is seven points ahead of the ruling Kuomintang's candidate Hung Hsiu-chu (洪秀柱) in a poll conducted on the day Soong announced his presidential bid, according to the United Daily News Friday.
The latest poll gives Tsai Ing-wen (蔡英文), candidate of the Democratic Progressive Party, the lead at 36 percent in a three-way race, compared with Soong's 24 percent and Hung's 17 percent.
The survey was conducted late Thursday, just hours after Soong, a 73-year-old former Taiwan governor, threw his hat in the ring.
Compared with a similar poll conducted at the end of June, when Soong had yet to reveal his decision on whether to stand in the election, Tsai's and Hung's approval ratings dropped by nine and eight percentage points, respectively.
The latest poll also shows that nearly six out of ten voters (59 percent) believe Tsai will win the election in January, up six points from the end of June.
(By Chloe Hsu)ENDITEM/jc