Two diplomats sworn in before departing for Poland, India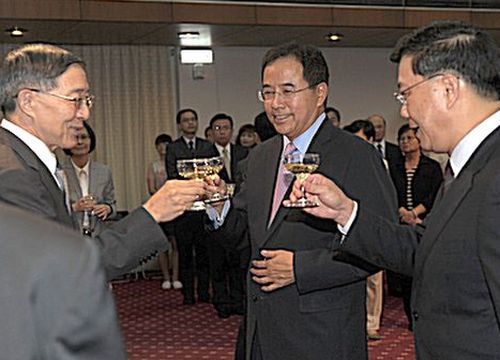 Taipei, July 8 (CNA) Two newly assigned diplomats were sworn in Wednesday in a ceremony at the Ministry of Foreign Affairs before being sent to their respective overseas postings.
Speaking at the ceremony, Foreign Minister David Lin (林永樂) expressed his expectations for Chen Ming-cheng (陳銘政), the new representative of the Taipei Economic and Cultural Office (TECO) in Warsaw, Poland, and Lee Chao-cheng(李朝成), director of the Taipei Economic and Cultural Center in Chennai, India.
He said that relations between Taiwan and Poland have continued to progress over the past several years and that the government expects the bilateral exchanges to contribute to negotiations over the signing of an investment agreement between Taiwan and the European Union.
Turning to the functions of the Chennai office, Lin pointed out that Taiwanese businessmen have played important roles in promoting cooperation in the region and said he expects continued efforts to be made.
Both Chen and Lee have extensive experience of working abroad. Chen has also served as a spokesman for the Ministry of Foreign Affairs, while Lee has worked as deputy director-general of the ministry's Department of NGO International Affairs.
(By Tang Pei-chun and Lillian Lin)ENDITEM/J