Foreign Policy sets record straight on Taipei mayor's remark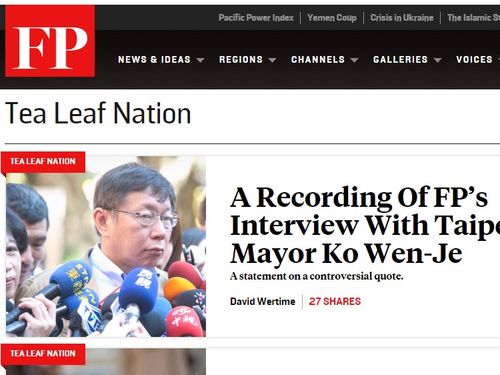 Taipei, Feb. 3 (CNA) The recording of an interview by Foreign Policy with Taipei Mayor Ko Wen-je (柯文哲) on Jan. 20 released by the U.S. journal on Tuesday shows that Ko in fact made a remark he originally argued had been mistranslated.
According to the recording, Ko indeed said in Chinese: "The longer the colonization, the more advanced a place is. It's rather embarrassing."
Ko had previously denied saying the word "colonization" and said it was a bad translation of his comments.
In the recording, Ko can also be heard joking "what, you mean I shouldn't speak the truth?" and adding "it's not a bad thing to be colonized for a long time" when the reporter seemed unsure that she had heard Ko correctly.
Those comments were not included in the Foreign Policy article on the interview.
Ko then explained, "Singapore is better than Hong Kong; Hong Kong is better than Taiwan; Taiwan is better than the (Chinese) mainland."
Foreign Policy released a statement with the recording on the journal's website to summarize what had happened.
"On Feb. 1, Ko told domestic media he had not used the term 'colonization' in his interview with Foreign Policy.
"On Feb. 2, Ko appeared to back off from his earlier statement when he said he would be 'more precise' in future interviews, and Taiwan-based Apple Daily quoted a member of Ko's team saying, 'It was our mistake,'" the statement said.
"To the extent that any questions remain about the accuracy of FP's translation, we make available below the relevant portion of the recorded interview with Ko. FP continues to stand by its translation," the statement reads.
Ko's comment regarding colonization drew flak from scholars and lawmakers who said it overlooked the problems and pain created by colonization.
In response to the dispute, Ko told reporters on Tuesday after a city meeting that he had meant to say "the longer a society comes into contact with a civilization, the more civilized it is."
"The first time, I thought it was mistranslated into English, but I did indeed say 'colonization' in Chinese. I was wrong, and that's that," Ko said.
(By Ku Chuan, Huang Yi-han and Christie Chen)ENDITEM/ls
Related stories:●Feb. 2: Ex-official urges mayor to disclose recording of disputed remark●Feb. 1: Taipei mayor labels praise of colonization a 'misunderstanding'
●Foreign Policy: A Recording of FP's Interview With Taipei Mayor Ko Wen-je