Navy takes delivery of new home-grown supply vessel (update)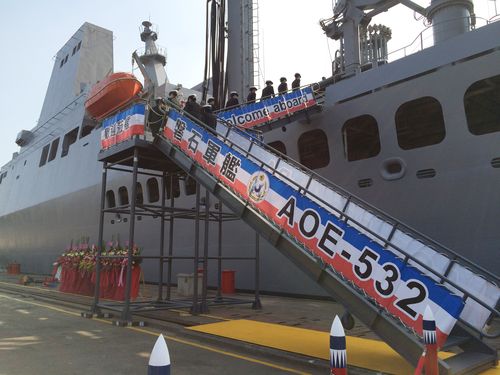 Kaohsiung, Jan. 23 (CNA) The Navy formally took delivery Friday of a new locally designed supply vessel that it said will enhance Taiwan's maritime combat capabilities and the country's ability to provide international humanitarian assistance.
Defense Minister Yen Ming (嚴明) co-hosted the delivery ceremony in a harbor in Kaohsiung, where the vessel was formally turned over to the Navy by local shipbuilder CSBC Corp.
After the vessel is put into service, it will help extend the Navy's maritime combat capabilities through its support of Taiwanese warships, Yen said.
He also hoped that the Kaohsiung-based CSBC, the largest shipbuilding company in Taiwan, will continue working with the Navy amid the military's efforts to modernize the Navy's fleet and become more self-reliant in procuring weapons systems and equipment.
CSBC has built 116 vessels of various types for the Navy, Yen said.
Called the Panshih (磐石), the new vessel will be used to transport fuel, ammunition and other supplies to support warships in wartime.
In peacetime, it will be mainly used to carry supplies, conduct maritime rescue missions, and provide humanitarian assistance, the Navy said.
Currently, the Navy only has one supply vessel in service, the Wuyi (武夷).
Having received the Panshih, the Navy said it will now begin training personnel to familiarize them with the craft before formally putting the ship into service.
Capt. Cheng Nai-pin (鄭乃斌), who will be the first captain of the Panshih, praised the vessel's mobility, stability and ability to travel long distances and carry large amounts of supplies.
"We also have advanced medical equipment to provide better medical services than the Wuyi," he told the media on the sidelines of the ceremony. "The Panshih is also more stable than the Wuyi."
There is a small hospital on the Panshih that includes an operating room, a dental room, three regular wards and an isolation ward.
[Medical facilities onboard the vessel. CNA photo Jan. 23, 2015]
The new vessel is expected to be formally commissioned in early March, a Navy official who will serve on the vessel said.
Commissioned by the Navy, CSBC began construction of the Panshih in 2011, and the vessel was christened in November 2013. It cost NT$4.09 billion (US$130 million) to build, according to the Navy.
It was named after Panshih Mountain in Hualien County. The words suggest a sturdy and unwavering foundation.
The new vessel measures 196 meters in length and 25.2 meters in width, can take a crew of up to 165 people, and has a range of 8,000 nautical miles.
It can reach a maximum speed of 22 knots and has a load displacement of about 20,000 tons and a light displacement of about 10,000 tons.
(By Elaine Hou)ENDITEM/ls
Related:●Jan. 23: Navy showcases new home-grown supply vessel