U.S. view on cross-strait ties unchanged after elections: official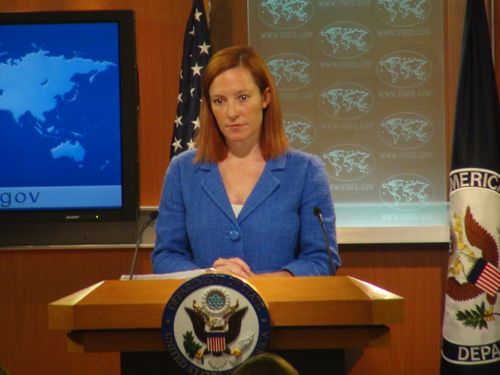 Washington, Dec. 1 (CNA) The U.S. government has not changed its view on cross-Taiwan Strait relations despite the outcome of Saturday's local government elections in Taiwan and is looking forward to working with all the successful candidates, a U.S. official said Monday.
"We continue to welcome the steps both sides of the Taiwan Strait have taken to reduce tensions and improve cross-strait relations," State Department spokeswoman Jen Psaki said during a daily press briefing.
"We also continue to encourage authorities in Beijing and Taipei to continue their constructive dialogue, which has led to significant improvements in the cross-strait relationship," she said.
Psaki praised the elections as demonstrating the "strength and vitality of Taiwan's democratic system" and said the U.S. government congratulates the candidates, voters and election officials for conducting a successful election.
In Saturday's elections, President Ma Ying-jeou's Kuomintang only managed to retain its control of New Taipei among the country's six special municipalities that make up nearly 70 percent of the population.
Of the other 16 counties and county-level cities up for grabs, the party take only five seats.
The KMT's crushing defeat has been seen by some as reflecting widespread discontent toward the central government, particularly its China policies.
(By Tony Liao and Y.F. Low)ENDITEM/ls
Related stories:●Dec. 1: DPP secretary-general heads to U.S. for post-election analysis●Nov. 30: KMT's setback signals rocky cross-strait relations: scholars●Nov. 30: U.S.-Taiwan relations to continue growing after elections: U.S. scholar