Twu Shiing-jer claims victory in Chiayi mayoral election (update)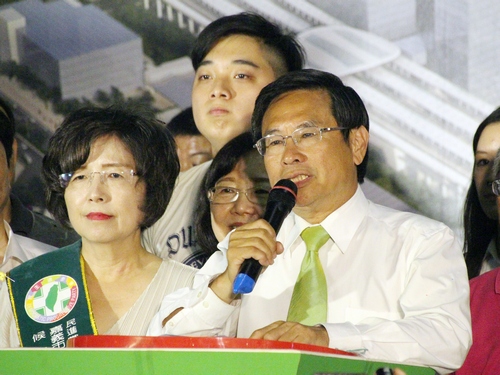 (Click HERE for our special election site)
Taipei, Nov. 29 (CNA) Twu Shiing-jer of the opposition Democratic Progressive Party (DPP) claimed victory in the race for Chiayi mayor Saturday, four hours after the poll closed.
"Let us start from the grassroots level to change Taiwan," Twu said in his victory speech, thanking Chiayi citizens for "demonstrating wisdom and democratic values."
The 63-year-old was ahead with 74,698 votes, while his closest opponent Chen Yi-chen of the ruling Kuomintang (KMT) had 66,108, according to Central Election Commission.
Chen, 37, had not conceded defeat as of that time.
There are around 208,000 eligible voters in the city.
The result means the DPP has wrested control of the KMT's only stronghold in the south of the country.
Twu served as health minister from 2002 to 2003 and as a lawmaker 2008-2012. In 2009, he lost the mayoral race in Chiayi to the incumbent Huang Min-hui of the KMT.
Chen, meanwhile, ran and lost in the 2012 legislative election in Chiayi County, later served as head of the Youth Development Administration 2012-2013.
(By Lee Hsin-Yin; click here for a list of results of this year's local elections)ENDITEM/WH/pc