Taiwan concerned about possible rallies in Vietnam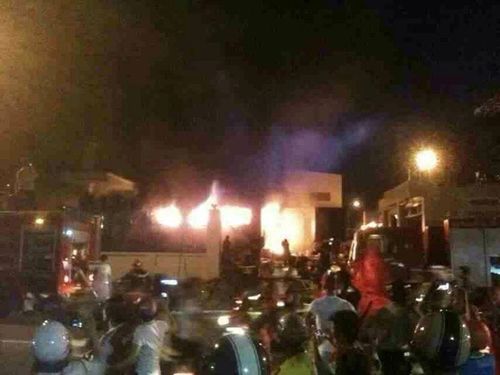 Binh Duong, Vietnam, May 16 (CNA) Taiwan has expressed its concerns to Vietnam's government about mass rallies likely to be held Sunday after recent anti-Chinese protests turned into riots, Taiwan's representative in the Southeast Asian country said Friday.
Representative Huang Chih-peng said he has personally delivered letters to the Vietnamese prime minister's office and Ministry of Public Security ahead of the planned rallies demanding that Taiwanese businesses in the country be protected.
He also stressed that following the riots that caused severe damage to Taiwanese-invested factories in the southern province of Binh Duong on Tuesday, the violence could not be allowed to spread to the northern part of the country.
Huang and other Taiwanese officials in Vietnam were bracing for mass demonstrations on Sunday called for by netizens to protest a Chinese oil-drilling venture in an area of the South China Sea that Hanoi regards as its exclusive economic zone.
Huang said Vietnam was relatively calm on Friday except for an incident outside a factory of Taiwan's Hon Hai Precision Industry Co. in the northern province of Bac Ninh.
A group of people gathered outside the factory, but they were dispersed by the local police force after Taiwan's office contacted Vietnamese authorities, Huang said.
In Binh Duong, meanwhile, the situation has gradually returned to normal in industrial parks there, with most inflammatory banners and posters having been removed.
Vietnamese employees of a Taiwanese-run shoe factory, which was attacked during the riot, told CNA they hope the Taiwanese owner can return to Vietnam soon after heading to Taiwan amid the chaos and lead them to resume operations.
One of them said the company was planning to restart operations on Monday, but it was unclear how realistic that was.
The employee supported the anti-Chinese protest, but said that it was wrong to attack factories indiscriminately and not differentiate between Taiwanese and Chinese.
Huang said he understood complaints made by Taiwanese business people who were affected by the recent riots, and his office is working on arranging flights for all of those waiting to return to Taiwan.
The representative office is also planning ways to help Taiwanese companies seek compensation from Vietnam and resume their operations, he said.
According to initial estimates made by Taiwan's Ministry of Economic Affairs, over 100 Taiwanese factories were broken into during the riots, with around 20 of them having been set ablaze.
A local resident said some mobile phone users received text messages from telecom operators, urging the public not to attend demonstrations and take part in illegal activities.
(By Tony Fan and Kay Liu)enditem/ls
(Click here for developments related to the anti-China protest-turned-riot in Vietnam.)