Ma willing to change P.R. approach and leadership style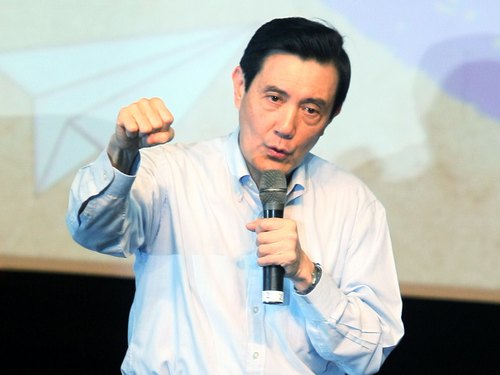 Taipei, April 20 (CNA) President Ma Ying-jeou, who doubles as chairman of the ruling Kuomintang (KMT), said Sunday he would be glad to adjust his government's policy promotion approach and his own way of appointing people to key positions.
Ma was responding to an honest and frank suggestion from a young member of the KMT during a youth forum in the wake of a massive student protest against his administration's handling of a trade-in- services agreement with China.
The man from Hsinchu, known only by his surname Chen, said that many people have criticized the president as an incompetent leader who draws on a "small pool of talent."
"You have to think about why people, including lawmakers from both the ruling and opposition parties, say things like that," Chen told Ma.
Chen also asked why the government had not assigned competent representatives to explain the administration's policies on TV, although most of the polices are good ones like the trade-in-services trade accord.
In response, Ma said he was grateful for the criticism and would be "happy to adjust" the government's policy promotion strategies and his personal leadership style.
Ma also admitted that youth activities within the KMT are disconnected to a certain degree from social movements and he promised self-reflection and reform within the party.
This detachment from what most young people in the country care about is something the party has to review, Ma said at the one-day KMT Youth Citizen Forum in Taipei.
Ma made the remarks after Huang Tzu-che, head of the KMT Department of Youth Affairs' Neihu division, said at the forum that the KMT's Youth League had organized pubic welfare activities over the past year but they were not well promoted.
For example, KMT youth groups organized a carnation-themed rally on March 29 in support of the controversial trade-in-services agreement signed between Taiwan and China last June, Huang said.
It was an event worthy of the KMT's attention and encouragement but the party did not give much support, he said.
The cross-Taiwan Strait trade pact triggered a massive student movement that included an occupation of the Legislature from March 18 to April 10 by student-led protesters.
The movement was seen in some quarters as a culmination of young people's widespread dissatisfaction with Ma's administration.
(By Kelven Huan, Claudia Liu and Elizabeth Hsu)ENDITEM /pc/sc
Related:●April 20: Ma extends goodwill to Sunflower Movement member
(Click here for a timeline of major developments since the Legislature occupation started March 18.)