Student-led protesters end occupation of Legislature (update)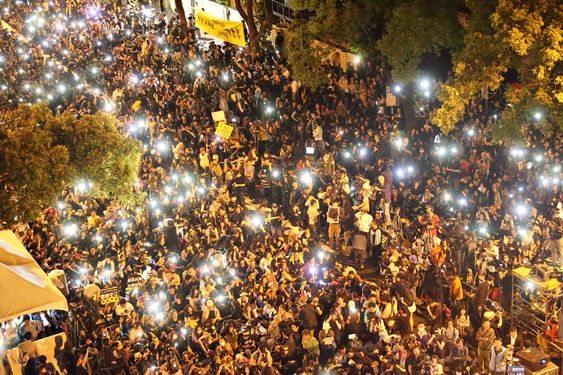 Taipei, April 10 (CNA) Student protesters began exiting the Legislature Thursday after 6 p.m., bringing to an end their 24-day-long occupation of the lawmaking body that they took up to show opposition to how the trade-in-services pact with China was handled.
Before the more than 100 protesters exited the building where they had been sitting in since March 18, some read a report detailing public opinions collected from a "people's assembly" event they held April 5 to discuss closer scrutiny over Taiwan's agreements with China.
Their statement covered calls for expanding civil participation on such pacts, transparency of information, comprehensive assessments on the impact to local business and negotiations conducted on equal footing.
They later made an announcement that they were "returning the gavel to the Legislature of the people."
Lin Fei-fan, leader of the student protesters, said it was not easy to make the decision to end their occupation, but he added that the departure does not mean an end to their movement.
Instead, the Sunflower Movement will tour around Taiwan to make its appeals as it watches closely how a proposed law to monitor cross-strait agreements is enacted, how the Legislature reviews the services agreement, and what becomes of their calls for a "civic constitutional meeting," he said.
As they then filed out of the Legislature's main chamber, they joined an ongoing rally outside before the crowd began to disperse at around 8:30 p.m., half an hour ahead of schedule.
They also expressed their gratitude to nearby residents for their support and allowing the demonstration to go on.
Protest leaders on Monday announced the end to their unprecedented occupation of the Legislature after a visit a day earlier from Legislative Speaker Wang Jin-pyng, who promised to pass a bill to oversee cross-strait agreements before he calls any more cross-party negotiations on how to go ahead with the review of the services agreement.
The protesters demanded that the services pact be shelved until closer monitoring could be implemented through legislation.
Since their movement began three weeks earlier, they had expressed worries that the pact will give China too much economic influence over Taiwan and hurt local small and medium-sized enterprises.
The government, on the other hand, has maintained that the services pact will benefit Taiwan's economy and help its efforts to join other regional free trade blocs.
(By Tai Ya-chen, Chen Chih-chung and Elaine Hou)ENDITEM/WH
(Click here for a timeline of major developments since the Legislature occupation started March 18.)