U.S. hopes for peaceful, civil debate over China trade pact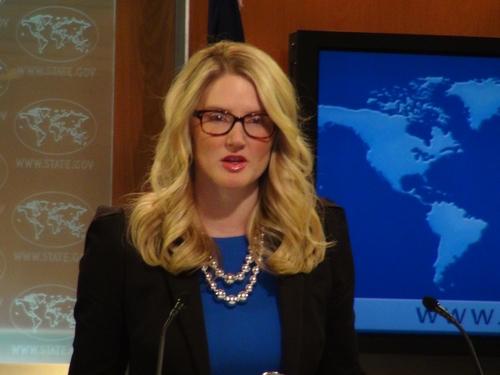 Washington, March 24 (CNA) The United States on Monday expressed support for Taiwan's democracy and hoped the debate in Taiwan over a service trade agreement with China can be conducted in a peaceful and civil way.
While reiterating U.S. endorsement of the efforts on both sides of the Taiwan Strait to improve their relations, State Department Deputy Spokesperson Marie Harf did not comment further on the dispute in Taiwan over the agreement, saying only the matter is for Taiwan to decide.
Harf made the comments when answering a reporter's question on on-going demonstrations in Taiwan at a daily press briefing.
"We certainly support Taiwan's vibrant democracy, which allows for this kind of robust political dialogue on a range of issues," she said.
"The agreement on cross-strait trade in services...is an issue for Taiwan to decide," she said. "We hope that the discussion can be conducted peacefully and civilly."
Harf went on to say that the United States has welcomed steps taken by both sides on the Taiwan Strait that they've taken to reduce tensions and improve relations between Taipei and Beijing.
"We'd encourage them to continue this constructive dialogue," she added.
The question was raised after a group of protesters stormed the Cabinet office compound in Taipei in a bid to expand their occupation of government buildings in protest over the trade in services agreement signed with China last June.
The group was dispersed by the police early Monday. Over 200 people including students and officers were injured during the clashes that involved the use of batons, shields and water cannons.
(Click here for the latest on the ongoing protest and developments since the Legislature occupation starting March 18.)