Premier blasts DPP heavyweights' support for protesters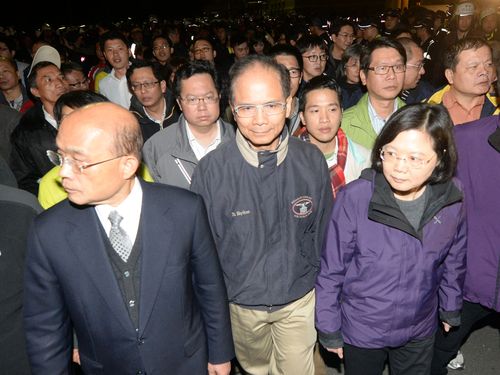 Taipei, March 24 (CNA) Premier Jiang Yi-huah voiced his disapproval Monday of several opposition heavyweights who showed up at a demonstration in which protesters were attempting to occupy the Executive Yuan a day earlier.
Hundreds of protesters against a trade-in-services agreement with China began to break into the Executive Yuan Sunday evening in an attempt to take over the building, apparently following the example of another group of student-led protesters who have occupied the Legislative Yuan since March 18.
Democratic Progressive Party (DPP) Chairman Su Tseng-chang and several of his predecessors, including Tsai Ing-wen, Frank Hsieh and Yu Shyi-kun, were spotted at the scene.
During a news conference held to explain the government's decision to disperse the intruders, Jiang said he would not speculate on whether the DPP politicians were driven to attend by any "political motives."
However, he said the appearances of Su, Tsai, Hsieh and Yu there "are definitely open to question," given the fact that all of them served as premier or vice premier at some point during the 2000-2008 DPP administration.
"If these opposition leaders were the premier or a member of the administration today, I do not believe they would tolerate such an act (breaking into the Executive Yuan)," he said.
(By Tang Pei-chun and Y.F. Low)ENDITEM/J
Related stories:March 24:●'Out of control' protests prompt action: premier (update)●Executive Yuan protesters dispersed with water cannons
March 23:●DPP calls for calm, safety of students as police action looms●Protesters enter Executive Yuan, extending occupation movement frontline
(Click here for the latest on the ongoing protest and developments since the Legislature occupation starting March 18.)