KMT lawmakers support item-by-item review of trade pact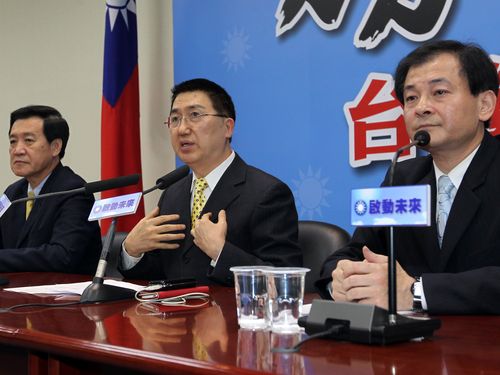 Taipei, March 21 (CNA) Several legislators of the ruling Kuomintang (KMT) agreed on Friday that a controversial cross- strait trade pact that has sparked an unprecedented student takeover of Taiwan's parliament building can be reviewed in the legislative floor article-by-article.
The legislators made the comments as the KMT called a legislative caucus meeting to forge consensus among its lawmakers in the wake of a standoff of civic groups and students occupying the legislature's main meeting chamber to protest against the lack of transparency over the trade-in-services pact and the government and ruling party's attempts to have it quickly approved in the legislature.
Under an agreement reached between the KMT and the opposition Democratic Progressive Party last June, both sides agreed to an item-by-item screening.
But the KMT earlier this week sent the pact straight to the legislative floor without a review by legislative committees, saying that it was the last resort because of the DPP's continuous blocking of the screening.
Legislator Lu Hsueh-chang said the pact is crucial to Taiwan's economic development and it was the government's policy to conduct full discussions and reviews.
Lu also said that it is right for Legislative Speaker Wang Jin-pyng to not participate in a meeting called by President Ma Ying-jeou earlier the same day to solve the impasse of the protesters occupying the legislature.
But Lu expressed the hope that Wang, as the head of the legislative body, will use every means to let the legislature return to normal.
Meanwhile KMT lawmaker Lai Shyh-bao, said the chances are minimal for returning the pact to the committees for review, but he said that the items in the pact can be screened on the legislative floor.
Another lawmaker, Lin Yu-fang, said the KMT will not be afraid of an article-by-article review, and it was the opposition DPP that has blocked the review.
On student protesters' call for people to lay siege at offices of the KMT around the country, Lu appealed for calm and rationality.
Lai said he has no comment on the matter, while Lin said "it suits them well to do what they want."
Related stories:●March 21: Major parties talk tough as speaker seeks to end protest standoff●March 21: DPP mobilizes to support student protesters at Legislature●March 21: Speaker skips out on meeting, pressures president for action●March 21: Legislative session may be extended to July due to protest
(For the latest on the Legislature occupation, click here.)