Cabinet to respect how Legislature deals with protest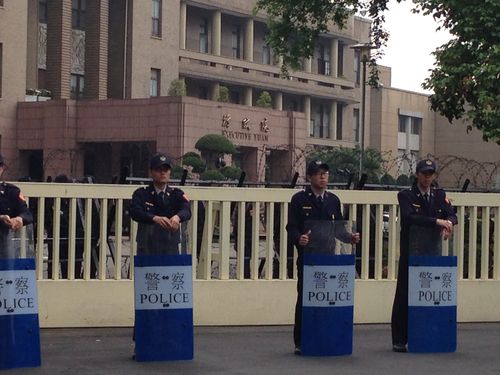 Taipei, March 19 (CNA) The Executive Yuan said Wednesday that the Cabinet will respect the way the Legislative Yuan handles the protesters against the trade-in-service agreement with China, whose occupation of the Legislative chamber has forced the legislature to shut down for the day.
Cabinet spokesman Sun Lih-chyun made the comment as Legislative Speaker Wang Jin-pyng said he has asked the caucus whips of both the ruling and main opposition parties to map out a strategy to resolve the dispute over the agreement.
The Presidential Office said it supports Wang's call for an early resumption of normal legislative work and appropriate handling of the issue in accordance to law.
The administration stands ready to lend its full support if it is needed, said presidential spokeswoman Garfie Li.
Hundreds of protesters, most of whom are students, have occupied the Legislative chamber since Tuesday night after storming past the police force guarding the complex. Thousands more blocked the entrances, forcing the Legislature to cancel all meetings scheduled for Wednesday.
Among other things, the protesters demanded an item-by-item legislative review of each provision in the agreement signed in June 2013 with the goal of opening up the service industry across the Taiwan Strait.
Speaking to reporters, Sun said the legislature will have a say in how to deal with the standoff and the executive branch will respect the legislature's decision.
The protest came after the ruling Kuomintang (KMT) on Monday labeled the trade pact an "executive order" and declared the review process over, a move protested by the opposition parties and civic groups skeptical of the trade pact.
Sun said that although the National Police Agency (NPA), which is supervised by the Ministry of the Interior, is in charge of maintaining order at the Legislative Yuan, the NPA has to communicate with the Legislative Yuan before taking any action.
Earlier in the day, the legislative speaker called for "reason and self-restraint," adding that he hopes the confrontation will be resolved peacefully and that the protesters will not be harmed.
The protesters said they intend to stay in the Legislative chamber through Friday. They have blocked entrances to the chamber used for floor meetings and managed to repel police attempts to disperse them in the early hours of Wednesday.
(By Claudia Liu and Frances Huang)ENDITEM/J
Update: ●Opposition party mobilizes members, mulling 'long-term' protest (3:46 p.m. Wednesday / For latest developments, please click here.)●President calls for approval of cross-strait pact before June
Related stories:●March 19: Speaker calls for self-restraint in Legislative standoff●March 19: Meetings canceled as protesters occupy Legislature●March 18: Protesters break police line, storm Legislature●March 18: Talk of the Day -- Service trade pact pushed forward amid chaos