Four injured during student storming of Legislature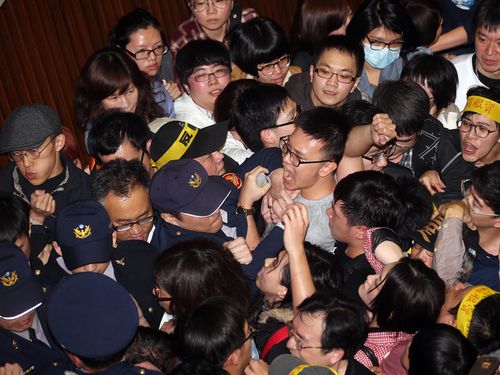 Taipei, March 19 (CNA) Four students and police officers were injured Tuesday evening as police battled students storming into the Legislature to try to stop a ruling party attempt to pass a trade pact with China without an item-by-item review of the pact.
National Taiwan University Hospital said it had admitted and treated three with minor injuries and a police squadron leader, Chung Chen-chiang, who fell down because of pneumothorax. After treatment, Chung was now in stable condition, a hospital official said.
After more than 100 protesting students stormed into the legislative building, the authorities increased the police force to 500-strong at the site.
Premier Jiang Yi-huah called legislative speaker Wang Jin-pyng late Tuesday to discuss how to end the stand-off, according to Cabinet Spokesman Sun Lih-chyun.
Sun quoted Wang as saying that order should be restored as soon as possible, in order to maintain the dignity of the parliament.
Sun said that Jiang told Wang that police will handle the matter. But it was not immediately known what course of action police will take to deal with the situation.
Update: ●38 policemen injured, 4 protesters arrested in clashes (9:17 p.m. Wednesday / For latest developments, please click here.)●President calls for approval of cross-strait pact before June●Cabinet to respect how Legislature deals with protest●Speaker calls for self-restraint in Legislative standoff●Meetings canceled as protesters occupy Legislature●Student protesters repel police, hold Legislative chamber●Police step back from effort to evict students inside Legislature●Police begin evicting protesters occupying legislature●DPP politicians try to protect students inside Legislature
Related stories:●March 18: Students dig in for prolonged occupation of Legislature●March 18: Protesters break police line, storm Legislature●March 18: Talk of the Day -- Service trade pact pushed forward amid chaos●March 18: DPP plans rally to pressure KMT on trade pact with China●March 17: KMT lawmaker claims trade-in-service pact 'passed' despite no review