Hon Hai joins Mozilla's development of Firefox OS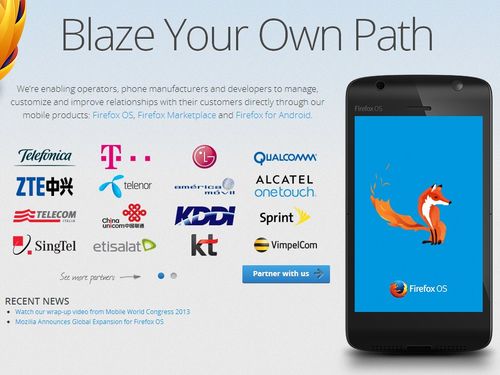 Taipei, May 27 (CNA) Mozilla Corp., developer of the Firefox web browser, said Monday that it has teamed up with Taiwan's Hon Hai Precision Industry Co., and they will unveil a product running the Firefox operating system (OS) on June 3.
The Taiwanese company, which is the world's largest contract manufacturer of consumer electronics, is the 19th companies to form a partnership with the software developer, Mozilla said.
Besides formally announcing the partnership during the June 3 press event, the two companies also plan to introduce a new Firefox OS device that day, according to the invitation sent to media outlets.
One industry insider said the new Firefox OS product to be unveiled that day is likely to be a tablet.
Mozilla has previously announced its partners of telecom operators and manufacturers, such as Deutsche Telekom, Sprint, SingTel, LG and Huawei in its Firefox OS project during this year's Mobile World Congress in Barcelona, Spain in February.
The software maker also began selling two preview versions of mobile phones running the Firefox OS, which are manufactured by Spanish company GeeksPhone, in late April, targeting developers.
Meanwhile, a Wall Street Journal report published on Monday said Hon Hai, which has profited from Apple Inc.'s business, is looking for new clients, as Apple sees market shares of its popular iPhones and iPads shrink.
Although Hon Hai also assembles products of other companies, including computers for Hewlett-Packard Co. and handsets for Nokia Corp., these clients have reported slower sales in recent quarters, the report added.
Therefore, the Taiwanese company is revamping its retail operations, which generate higher margins than contract manufacturing, while planning to invest in media contents and software, the report said.
(By Stacey Wu and Kay Liu) enditem/cs