Taiwan-New Zealand partnership helps power up indigenous Maori communities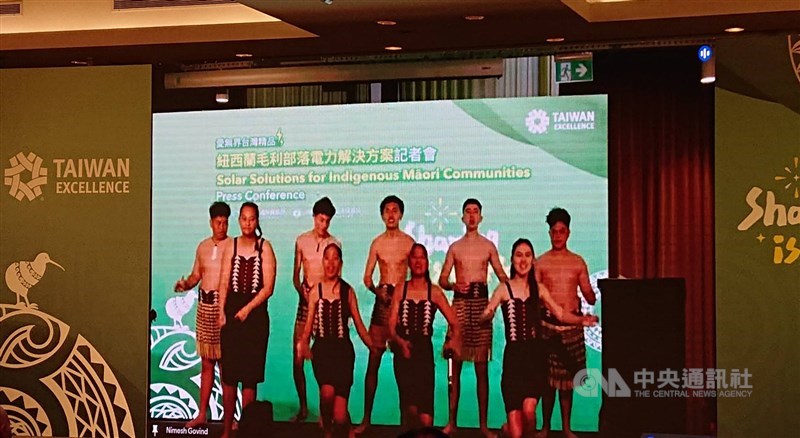 Taipei, Sept. 15 (CNA) A project between Taiwan and New Zealand has helped power up Indigenous Maori communities in the Oceanic country, the Bureau of Foreign Trade said on Friday.
Solar Solutions for Indigenous Maori Communities, a project from New Zealand that won the "Sharing is Caring" CSR (corporate social responsibility) campaign launched in 2021 by Taiwan's Ministry of Economic Affairs and Taiwan External Trade Development Council (TAITRA), has successfully installed solar panels in two Maori communities, Okarea Marae and Karetu Marae, in New Zealand, according to a virtual presentation of the project on Friday in Taipei, where a physical press conference was held.
The proposal was made by Maui Energy, a family-owned company committed to improving lives of Maori communities, "which are often located in remote areas and facing unique challenges, including the need for stable power supply," according to Bureau of Foreign Trade (BOFT) Director General Cynthia Kiang (江文若).
Maui Energy's proposal was to tackle this challenge by using the colored solar panels from Taiwan Excellence Award-winning company Lof Solar Co., and building a self-sustaining power system for Okarea Marae and Karetu Marae in New Zealand, Kiang said.
"I'm happy to announce that this installation of solar panels has achieved accumulated power output of 61 kilowatt, which is enough to supply power to 20 households," she added.
Deputy Chairman of Independent Maori Statutory Board Tau Henare, who was at the press conference in Taipei, lauded the bonding between Taiwan and New Zealand.
"I met my ancestors here, and when we got to New Zealand, we became indigenous. The journey took us thousands of years, but the journey is not over," he said, referring to the ties between the Maori people and Taiwan's indigenous tribes.
On the project, he added, "When we talk about solar energy, or trade, we also talk about family. A word we continually hear is sustainability. Not only is your power source a sustainable power source, so is your family, so is your indigeneity."
Okarea Marae representative Kay Davis, who spoke at the parallel real-time press conference held in Auckland, New Zealand, said she was thankful and at first surprised that the installation came as free. "[But] the realization sits on our roofs and powers up our marae," Davis said.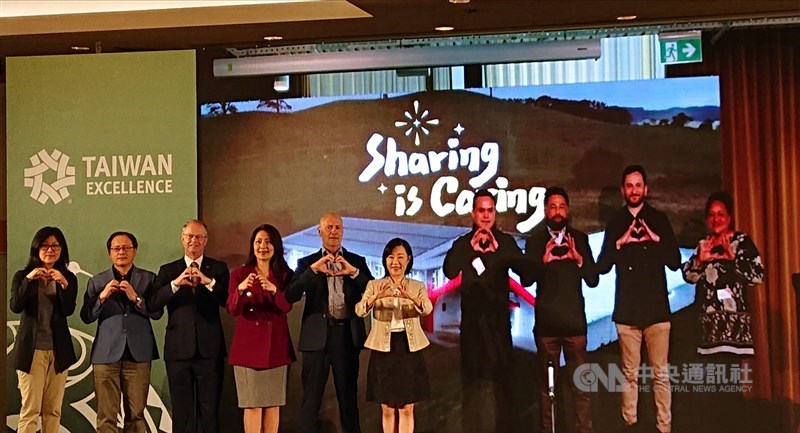 According to the Taipei Economic and Cultural Office in New Zealand, Lof Solar Corp skillfully incorporated solar panel modules into the roofs of marae structures, which involved 192 green solar panel modules for Okarea Marae and 39 red solar panel modules for Kāretu Marae, and the installation was executed by the Tū Mai Rā Energy Limited Partnership (TMRA).
As the usual solar cells come in blue and black, colored solar cells are used to accommodate the historical marae structures that are in red and green.
Zoe Chuang (莊欣闐), senior marketing manager from Loft Solar Corp, told CNA that Loft is the world's only company that has the technology to make colored solar cells, which perform with better efficiency than traditional panels using colored glass.
The event on Friday began with a real-time "mihi," or a Maori welcome speech, from Auckland, by Arapeta Hamilton, the spokesperson from Karetu Marae Ngati Manu, and closed with a Maori prayer known as "karakia" by Ngati whatua representative Jason Dickson.
A group of young people from the two Maori communities also performed Haka, a Maori ceremonial dance, at the event venue in Auckland.
The "Sharing is Caring" campaign is sponsored together by BOFT and Taiwanese enterprises that have won the Taiwan Excellence Award.
"The goal is to recruit global citizens to come up with creative initiatives utilizing Taiwan Excellence products and services, propose innovative solutions, and implement them in their home countries to specifically aid the local environment and society," according to Taiwan Excellence.
The campaign had received over 700 applications from 61 countries, according to BOFT, which announced the top three winning proposals in January 2022. They are Solar Solutions for Indigenous Maori Communities (New Zealand), Educating and Empowering the Community through Mobile Kart (the Philippines), and One-day Medical Tour and Same-day Denture Delivery - Mobile Digital Denture Clinic & Oral Health Service Project (Taiwan).
Each winner received a US$10,000 bonus and assistance from BOFT and Taiwanese enterprises in execution, with the maximum amount of the execution budget capped at US$150,000.