Restoration of 500-year-old Quran completed in Taiwan
Taipei, June 6 (CNA) The restoration of a 500-year-old handwritten Holy Quran was completed on Sunday, according to the Taiwan-based Buddhist Tzu Chi Charity Foundation.
The 500-page manuscript, heavily worn down by wear and tear, was presented to Master Cheng Yen (證嚴法師), founder of the charity foundation, as a gift in 2020 by Faisal Hu (胡光中), a Tzu Chi volunteer and Muslim based in Turkey.
However, Cheng Yen found cigarette beetles -- a kind of bug commonly found in old books -- in the manuscript and turned to National Taiwan Library for help via Hu and another volunteer Wu Ying-mei (吳英美), who was deputy director of the library at the time, the library said.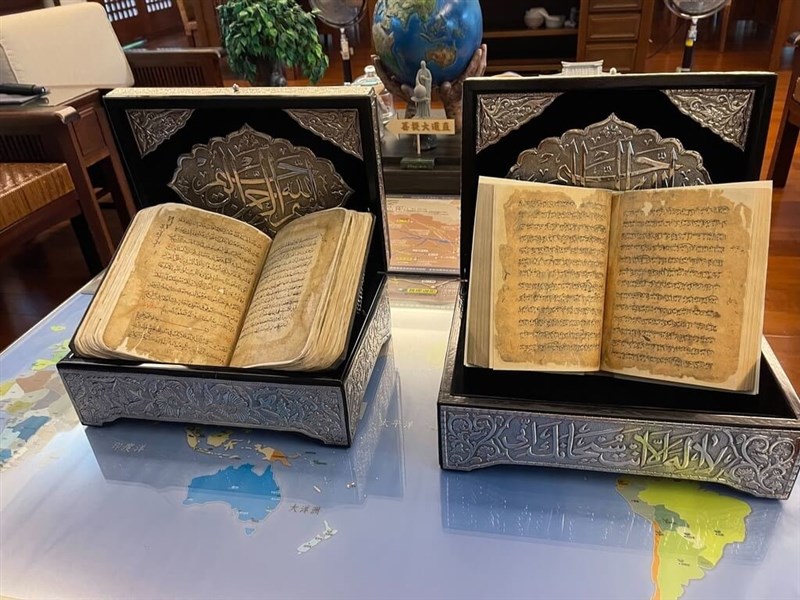 The restoration took 35 months, including a pause of about one and a half years due to the COVID-19 pandemic, before Hu, library director Tsao Tsui-ying (曹翠英) and restorers at the library's Book Hospital presented the restored work to Cheng Yen in Hualien on Monday.
This is the oldest book from the West to be restored by the library, according to Tsao, who said the successful restoration of the religious text has historical significance and is a recognition of the he team's professionalism and expertise.
Meanwhile, Wu thanked Tsao for undertaking to restore the Quran free of charge and noted that the rare opportunity to repair such an important Western religious work will help to raise the profile of the library's Book Hospital.