LGBTQ RIGHTS
/
NTU student election candidates bashed over discriminatory remarks
Taipei, May 21 (CNA) Two candidates on the same ticket in a National Taiwan University (NTU) student election have suspended their campaigns after using crude, discriminatory language, while the education minister reiterated on Sunday the importance of diversity.
Ahead of the election for the head and deputy head of the Department of Economics' student association, set for May 29-31, the two candidates proposed extreme policies as they campaigned for the positions.
Among their appeals were "LGBTQ people and dogs are not allowed to play the online game 'Arena of valor' in the association's office" and "those who graduate without having a boyfriend or girlfriend must be surgically sterilized."
There were also proposals "to cut the admission quota of Indigenous people, overseas Taiwanese and sports students" and "to prohibit people who have a Body Mass Index of over 20 from taking an elevator."
The remarks drew a public backlash, and the candidates apologized Sunday and suspended their election campaign, while the Department of Economics said it has referred the case to the school's gender equality commission for further investigation.
Also on Sunday, Education Minister Pan Wen-chung (潘文忠) responded that the rhetoric did not comply with the spirit of education by voicing one's position in a discriminatory way.
Pan said his ministry will ask NTU to look into the case and provide "necessary counseling" for the students.
The school said it did not welcome discriminatory remarks even though it respected freedom of speech.
Update
May 22: NTU student election candidates investigated over offensive platform
Related News
May 19: 'Discriminatory' banner at NTU raises ire of Indigenous students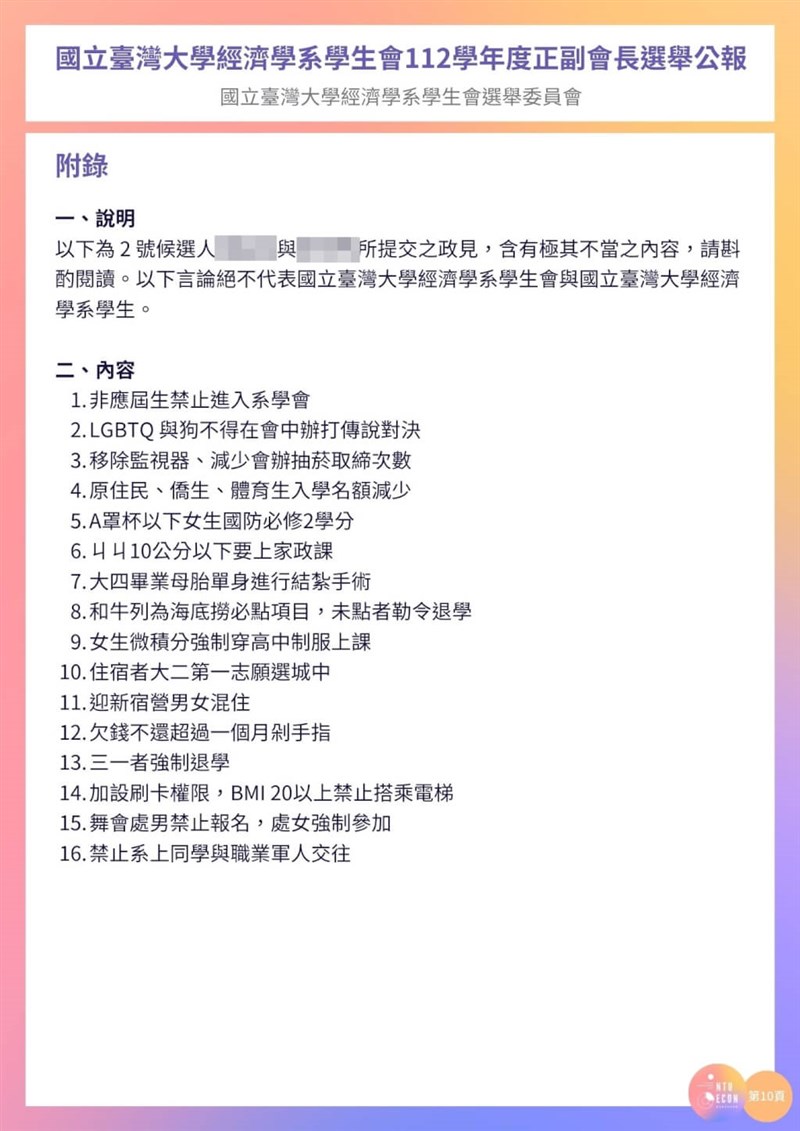 View All