Taiwanese Hokkien language course in Paris highlights Taiwan culture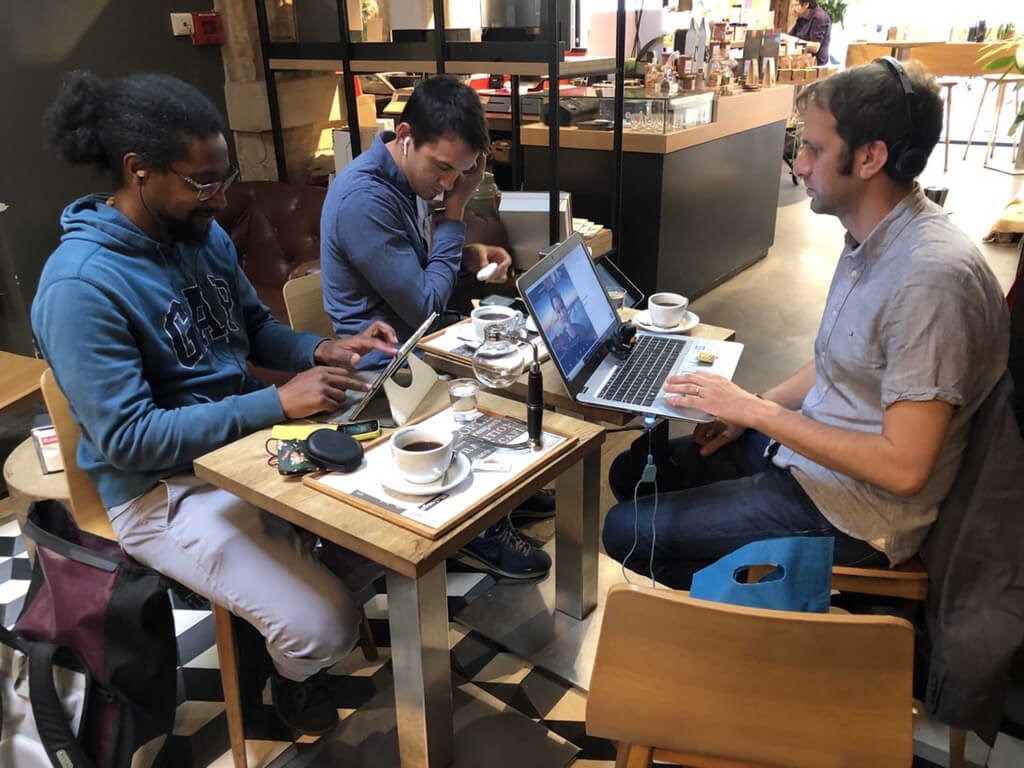 Taipei, July 6 (CNA) An online Taiwanese Hokkien language course that was offered for the first time by an adult training center in Paris was also an education in Taiwan culture, some of the international students said at the recent conclusion of the program.
In a virtual presentation at the end of the one-year course, some of the 66 graduating students from around the world said they had learned not only the language but also about many aspects of Taiwan's culture.
For instance, Taiwanese music played a big role in the Taiwanese Hokkien language classes that were offered for the first time by Les Cours d'Adultes de Paris, according to the students, who completed the course on June 25.
They said one of the ways they practiced the language was by singing songs such as "Back Here Again" and "Oh Love, You Are Much Greater Than I Imagined," by the Taiwanese band EggPlantEgg (茄子蛋), and "Express Love Letter," by Wu Bai (伍佰) and Wan Fang (萬芳).
Using Taiwanese Hokkien, they also performed short skits and discussed topics related to Taiwan, the students said.
EggPlantEgg's "Oh Love, You Are Much Greater Than I Imagined" which wins the Golden Melody Song of the Year Award for the Taiwanese band this year.
One of the students, who was identified only as Eléonore, said she had signed up for the course because she hoped to gain a better understanding of Taiwan culture through the Taiwanese Hokkien language.
Eléonore, who lives in Singapore, said she had visited Taiwan once as an exchange student and hoped to return one day to live and work.
Some of the other students, however, had never been to Taiwan and knew little about the country, according to Pan Yi-ling (潘怡伶), one of the three teachers of the Taiwanese Hokkien course.
Pan said she took the approach of teaching not just the language, but explaining aspects of Taiwan culture, which allowed the students to better understand certain Taiwanese Hokkien phrases.
Among the students who were more familiar with Taiwan was Coline Maileux, a lecturer at Sophia University in Japan, who sang "Express Love Letter" with some of her classmates during their presentation at the conclusion of the course.
Maileux said she fell in love with Taiwan when she visited 15 years ago, and she hopes to return to live in the country, which she thinks has a promising future.
Another student, identified as Benjamin, said the most rewarding result for him has been the pride that his Taiwanese wife and her friends now expresses in his ability to speak Taiwanese Hokkien.
Benjamin, a telecommunications integration engineer, said that for his presentation at the end of the program, he chose to talk about alcoholic drinks that are made in Taiwan, including sorghum liquor, whiskey and beer, as they are part of Taiwanese culture.
The one-year Taiwanese Hokkien language program at Les Cours d'Adultes de Paris was headed by Miao Lin-Zucker (林季苗), an associate professor at University of Lyon, and it was taught by Pan, Liu Chan-yueh (劉展岳), and Chen Ping-hsueh (陳品學), who each had a class of students.
Miao, who also heads other Asian language programs sponsored by the Paris City government, said that in the 2022-2023 academic year, Les Cours d'Adultes de Paris will again offer the Taiwanese Hokkien language program, this time at two levels -- for beginners and those who have Mandarin language ability.
According the center's website, applications for the new courses will open in August.