LGBTQ RIGHTS
/
Taiwan LGBT Pride to celebrate 20th anniversary throughout October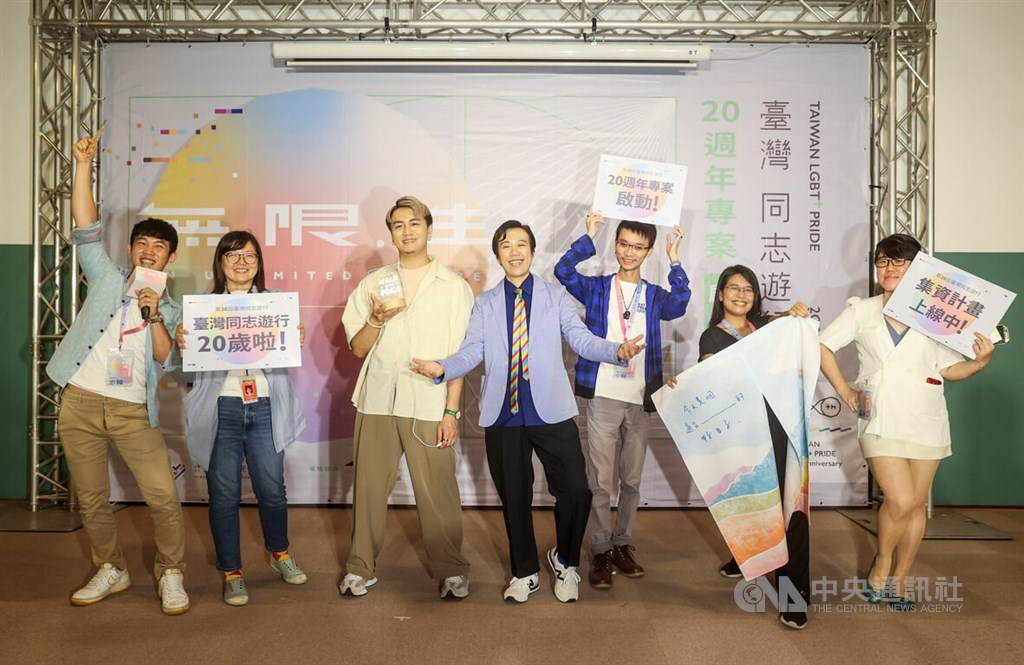 Taipei, June 28 (CNA) The 20th anniversary of the Taiwan LGBT Pride parade in Taipei will be celebrated this year with a series of events throughout October and into early November, the organizers said Tuesday.
The 20th anniversary events will include an exhibition and a series of market fairs, the Taiwan Rainbow Civil Action Association said at a press conference when marking International LGBT+ Pride Day, which commemorates the Stonewall riots that started in New York on June 28, 1969.
Under the theme "An Unlimited Future," the exhibition will feature highlights of the two decades since the first pride parade was held in Taiwan, the association said, adding that it is working with Songshan Cultural and Creative Park to hold that event Oct. 1-Nov. 6.
The market fairs, meanwhile, will be held on the weekends of Oct. 1 and 15, shining a light on groups and vendors that support the LGBTIQ+ community and highlighting the diversity of everyday life in Taiwan, the association said.
In addition, a forum is being planned for an undecided date in October, to discuss issues faced by the LGBTQ+ community since Taiwan legalized same-sex marriage in May 2019, the association said, touting its continued efforts to help build a society in which people can express themselves, regardless of their gender, sexuality, or personal identity.
Alongside the anniversary events, this year's Taiwan LGBT+ Pride will return with an in-person march on Oct. 29, the association said, adding that it will give further details in late August.
Last year, the Taiwan LGBT Pride was held in a hybrid format -- featuring online events and some physical exhibitions -- due to the COVID-19 pandemic.
To raise funds for this year's Taiwan LGBT Pride events, the association on June 10 launched a crowdfunding campaign, which it said will end on July 31.
The Taiwan LGBT Pride parade, first held on Nov. 1, 2003 in Taipei's Ximending area, has been moved to the last Saturday of October. In 2019, prior to the implementation of COVID-19 border control measures, the march attracted a record 200,000 people from around the world.
CNA's three-part series on LGBTQ+ rights in Taiwan
Part 1: Same-sex cross-national couples continue fight for marriage equality
Part 2: Despite same-sex marriage law, parental rights still lacking
Part 3: Transgender people hope for change in ID regulations after landmark court rulings
View All