Hakka foundation calls criticism of Hitler meme 'discriminatory'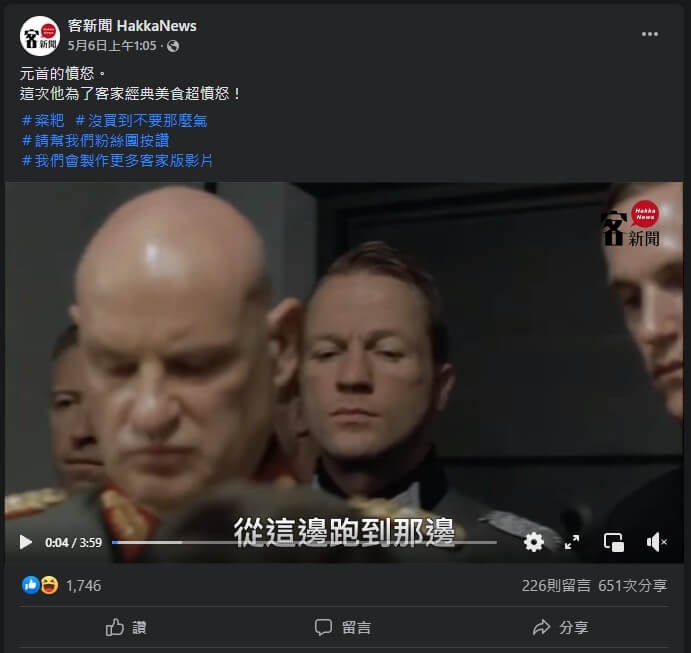 Taipei, May 11 (CNA) A government-funded foundation has described as "discriminatory" criticism of a video it made parodying a clip from a movie on the final days of Adolf Hitler to promote Hakka cuisine, arguing that scene has been used in memes in many other languages.
Hakka News, a social media feature of the government-financed Hakka Public Communication Foundation (HPCF), recently posted a meme video depicting Hitler rebuking his officers for failing to get him mochi, a traditional Hakka food made of glutinous rice.
The meme was made from the Hitler rant scene in the movie Downfall, a 2004 German film about Hitler's final days, in which Hitler was shown unleashing his fury in his bunker when he learned from his commanders that the war was lost.
The video made by the HPCF, which is under the Cabinet-level Hakka Affairs Council, sparked some controversy for using Hitler to advertise Hakka food.
Taiwan People's Party Legislator Lai Hsiang-ling (賴香伶) said in a Facebook post Tuesday that the use of the scene in the video was an act of "disregard for the tragic history" of the Holocaust.
Lai slammed the Hakka News for "transgressing taboos against racism" simply to "tempt Internet users" into getting clicks.
In an interview with CNA on Tuesday, an HPCF official said the meme format has been widely circulating on the Internet for more than a decade with subtitles and voiceovers in various languages, including Mandarin Chinese and Hoklo that are used in Taiwan.
While it has been permissible to use the meme format in other languages, criticism has been leveled at a Hakka-language version, which was tantamount to "discrimination against and suppression of ethnicity," said the official, who did not wish to be identified.
It was regrettable that Hakka people did not enjoy the same rights as other ethnic groups in terms of creating videos, the official said.
The foundation gave careful thought to whether using the scene would be seen as the "glorification of Nazism" or "denigration of Hakka culture" before it decided to go ahead with the idea, the official said.
Such concerns were dismissed, however, because YouTube has not blocked the many parodies of the Hitler rant scene on its platform even though it has a strict policy against videos that are racist or contain hate speech, the official said.
The HPCF also issued a statement on its website Wednesday, saying the video was simply a recreation of the meme in the Hakka language and that it "was not its intention to use Nazism to market Hakka cuisine."
Because the video has aroused controversy, the foundation was "open to feedback with a humble heart," the statement said, but it also reiterated the HPCF's disapproval of what it saw as "discriminatory" criticism.