Vintage Tze-Chiang EMU1200 trains retired from tracks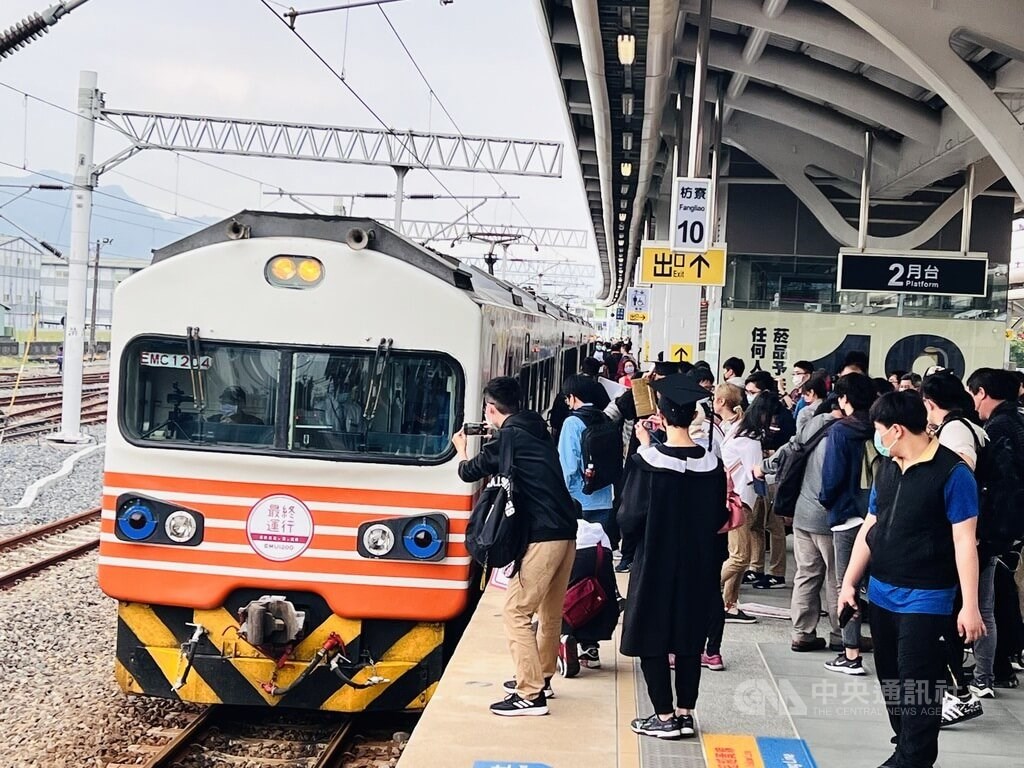 Taipei, March 28 (CNA) The EMU1200 train used on certain Tze-Chiang Limited Express train routes over the past four decades made its final journey Monday, according to the Taiwan Railways Administration (TRA).
The last of the EMU1200 trains departed from Fangliao Station in Pingtung County at 4:45 p.m. Monday for its three and a half hour trip to Changhua Station, where it arrived at 8:15 p.m.
According to Hsu Chu-ping (徐竹平), a TRA official in Kaohsiung, the cars were rolled out on 1987 and have served Taiwan for 36 years.
They were originally designated as the EMU200 before being overhauled starting in 2000. After the refurbished trains returned to service in 2004, they were rebranded as the EMU1200 series and nicknamed "Red Zebras" following a new paint job that gave them their signature look.
Once the last Red Zebra is officially retired Tuesday, the new Japanese-built EMU3000 intercity trains that began service in December 2021 will be used on the Fangliao-Changhua line, according to the TRA.
The change is part of a significant modernization of the TRA's fleet that also includes retiring Fu-Hsing Semi Express trains, which make their final journey Tuesday.
The phasing out of these older models will allow the TRA to fully utilize its newly acquired EMU3000 trains and the Korean-made EMU900 series trains that went into service in April 2021.
Hsu said there were no plans for the EMU1200 trains to be repurposed for use on other routes, unlike some carriages from the Fu-Hsing Semi Express train fleet that the TRA feels can be salvaged for use on the South Link line.
In honor of the trains' decades of service in Taiwan, the TRA decorated the exterior of the last EMU1200 operating Monday with Chinese words saying "Final Operation" and provided limited-edition commemorative ticket holders to train buffs.
The TRA said ticket purchases for a ride on the line costing more than NT$200 (US$6.94) qualified 200 individuals to receive a holder for their tickets, followed by a stamped validation that they took part in the train's last ride.