Hakka folksong master receives posthumous presidential citation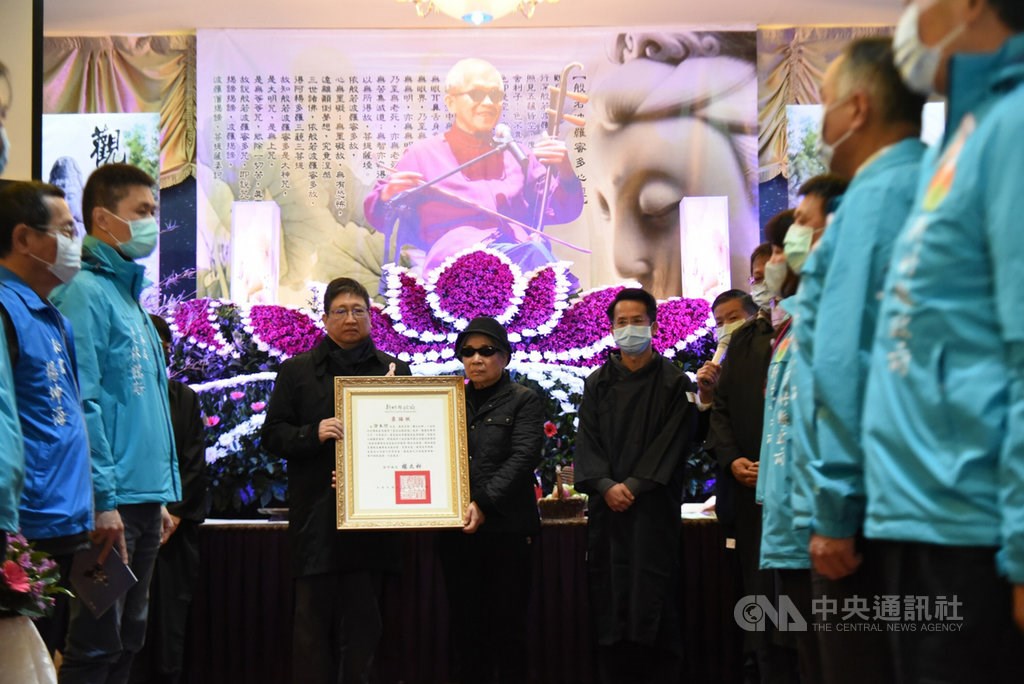 Taipei, Jan. 9 (CNA) Renowned Hakka folk song artist Hsu Mu-chen (徐木珍), who passed away on Dec. 29, 2020, received a posthumous presidential citation Saturday for his life-long contribution to enriching Hakka folksong culture.
Oh behalf of President Tsai Ing-wen (蔡英文), Hakka Affairs Council (HAC) Minister Yiong Con-ziin (楊長鎮) conferred the honor at a memorial ceremony in Hsinchu County, where Hsu grew up.
The late musician, hailed as a national treasure for his rich life experiences and cultural achievements, was the pride of Hsinchu County and Taiwan, Hsinchu County Magistrate Yang Wen-ke (楊文科) said in a news release.
Born on April 5, 1944, Hsu lost his eyesight at a young age, but that did not deter him from pursuing his passion for music, according to the county government.
By the time he was 7, Hsu had mastered several different folk instruments, including drums, gongs, clappers and a type of lute called a yueqin, Hsinchu authorities said.
In addition, Hsu had acquired sophisticated singing skills and was able to perform Hakka mountain songs, known as Hakka tea-picking ballads, which are usually chanted or sung.
Over the years, Hsu devoted his energies to passing on the art of Hakka mountain songs and fostering folksong talent, the magistrate said.
Before Hsu's death at the age of 76, he had recorded more than 100 albums of Hakka folk music, on multiple labels and in various styles, and had won several accolades, including the HAC's Outstanding Achievement Award, according to the Ministry of Culture and the county.
In 2009, he was recognized by Hsinchu for his efforts to preserve Hakka mountain songs, which have been listed in the county as an intangible cultural heritage.