Death of elephant in India sparks local art for animal protection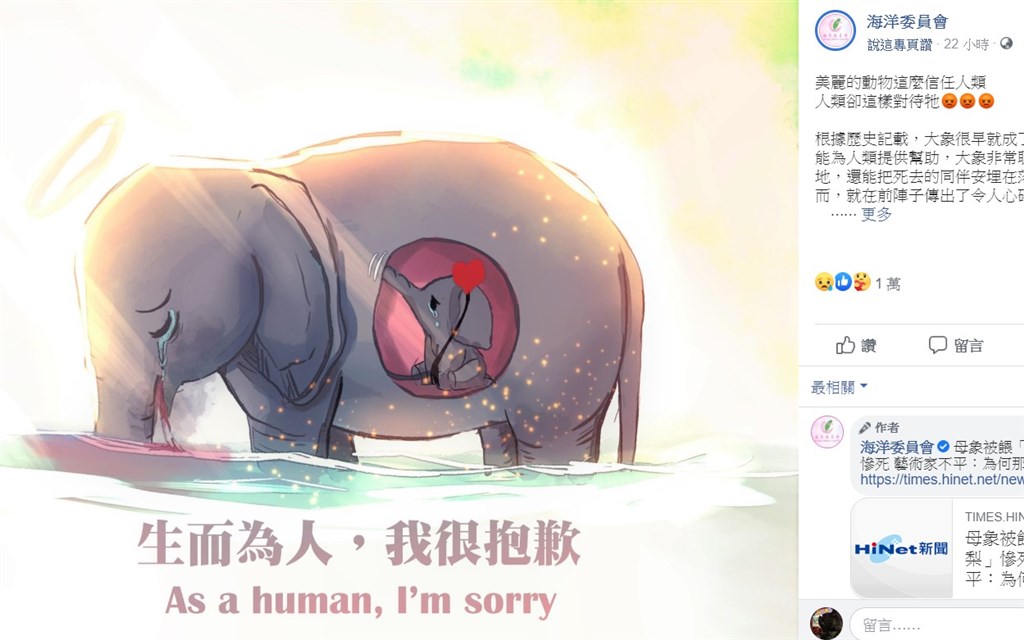 Taipei, June 24 (CNA) Illustrators in Taiwan have used their drawings of an elephant to call for better animal protection, following a death of a pregnant elephant in India last month.
Asking why local people would do such a thing, the illustrator behind the design brand Crazy TEA posted a graphic of a pregnant elephant on Facebook in tears Tuesday, calling for people not to harm animals.
On May 23, a wild elephant in the Indian state of Kerala swallowed a pineapple stuffed with a firecracker and died a few days later from drowning after she submerged herself in a river to soothe oral injuries she suffered.
According to news agency reports, local forestry officials suspect that the elephant's death was linked to the practice of some local farmers of scattering firecracker-filled fruit around their farms to protect their produce and deter wild animals.
Prior to the Crazy TEA Facebook post, another illustrator called People2 posted a drawing on June 5 of a mother elephant holding a baby elephant, with a caption saying "Don't be scared, baby. It doesn't hurt anymore."
Taiwan's Ocean Affairs Council also posted on Tuesday a graphic of a mother and baby elephant in tears with a caption saying that "As a human, I'm sorry," in the hope that the earth will be a less dangerous place for animals in the future.
(By Sabine Cheng and Kay Liu) enditem/J