Immersive theater show to be staged at Taipei Arts Festival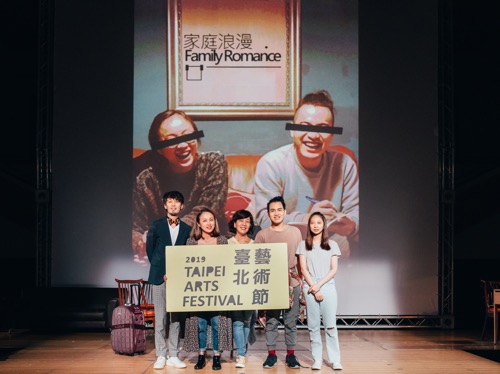 Taipei, Aug. 9 (CNA) A sibling performing arts troupe is set to stage an immersive theater show at the 2019 Taipei Arts Festival this weekend that will give the audience the chance to engage with theater productions in a more intimate way.
The show, called "Family Romance," is the first joint production by siblings Hung Chien-han (洪千涵) and Hung Wei-yao (洪唯堯), who operate the performing arts troupe "Hung Chien-Han and Hung Wei-Yao."
"Family Romance" does not have a single storyline but rather is composed of scenes depicting the daily outings of a family consisting of a mother, son, and daughter.
"The whole show is focused on giving the audience an opportunity to be a part of the production, so we will also invite members of the audience to come on stage to act out scenes as either family members or family friends," Hung Wei-yao said at a press conference Thursday.
The specially designed seating arrangement, which depicts living and dining rooms, also aims to make the audience feel they are part of the show from the moment they walk into the theater, he said.
At a dress rehearsal on Thursday, an audience member was invited on stage to play the role of "the son's girlfriend." In that scene, the mother, the son and his girlfriend went for a family outing near the iconic Taipei 101 building. The son then proposed to his girlfriend.
In another scene, another audience member played the role of "the mother's boyfriend," who brings his girlfriend on a vacation to a destination of his choice.
Photo courtesy of Taipei Performing Arts Center
Photo courtesy of Taipei Performing Arts Center
Hung Chien-han said the production was inspired by a Lunar New Year family dinner two years ago. While dining at a restaurant with her family, she realized that there were only five people in her family, but they were sitting at a table for 10.
That led her to imagine who else could have sat in the empty seats, she said, leading the troupe to borrow the idea of "rent-a-family" that originated in Japan when contemplating the show "Family Romance," she said.
In Japan, there are a number of agencies that rent out actors to play the roles of family members or friends for lonely people who need the company.
"We are not trying to portray our family's life experiences on stage, but instead are using the idea to develop a production where the audience can help us complete our experiment and imagination," she said.
The siblings also have their own performing arts troupes "Co-coism" and "Kingkong Wave Production," which focus on immersive theater.
"Family Romance" will be performed twice on Saturday and once on Sunday at Zhongshan Hall as part of the 2019 Taipei Arts Festival.
The festival, being held from Aug. 3 to Sept. 8, is an annual arts festival that serves as a platform for artists to demonstrate their creativity and originality.