Taiwan dance, theater groups to perform in France, UK festivals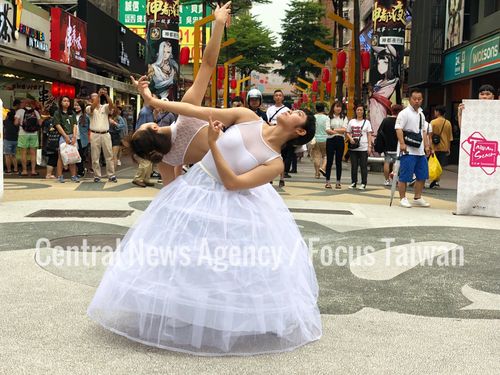 Taipei, June 18 (CNA) A collection of Taiwan-based dance and theater groups that will perform overseas at two international arts festivals hit the streets of Taipei Tuesday to showcase their work.
Six of the seven groups that have been selected by Taiwan's Ministry of Culture (MOC) to represent and promote Taiwanese performing arts at the Edinburgh Festival Fringe in the UK and the Avignon Festival Off in France were snapped by passers-by as they paraded through the center of the Ximending shopping district.
The Chang Dance Theater kicked off a solo performance by a member of the group with a contemporary dance depicting conflicts in fraternal relationships.
Chang Dance Theater
The Gang-a Tsui Theatre continued with a performance with percussion and lanterns.
Gang-a Tsui Theatre
A trio from Shinehouse Theatre infused British Sign Language and puppetry in their performance, while a duo from flamboyantly dressed Hsing Legend Theatre showcased their rendition of a famous Chinese story of the fictional character Wu Song slaying a tiger.
Shinehouse Theatre
Hsing Legend Theatre
Up next was a masked performer from Dua Shin Te Production, who created mystery and suspense.
Dua Shin Te Production
The last performance, inspired by a Buddhist ceremony, was by a duo from B. Dance, who showcased the dynamic expression of the movement of the human body.
B. Dance
MOC Deputy Minister Hsiao Tsung-huang (蕭宗煌) said various groups have been selected to represent Taiwan at the two art festivals for many years.
Each year, Taiwanese groups are selected to promote Taiwan performing arts, providing them with the chance to perform internationally, Hsiao said.
"The two festivals bring together many professional dance groups that inspire learning from each other, in addition to many international producers or managers who may invite good performances to perform in other parts of the world," Hsiao said.
Claire Harsany, a counselor from France who works at the MOC, described her fascination with the melting pot of Taiwanese culture.
Taiwan's arts is influenced by different periods of its history, making its culture very unique and "so interesting," she said.
Gang-a Tsui Theatre, Kuo-Shin Chuang Pangcah Dance Theatre and Hsing Legend Theatre will be performing at this year's Avignon Festival Off, to be held July 5-28.
Chang Dance Theatre, Shinehouse Theatre and Dua Shin Te Production, meanwhile, are scheduled to perform at this year's Edinburgh Festival Fringe, to be held Aug. 2-26.
B. Dance, meanwhile, has been selected to perform at both festivals.